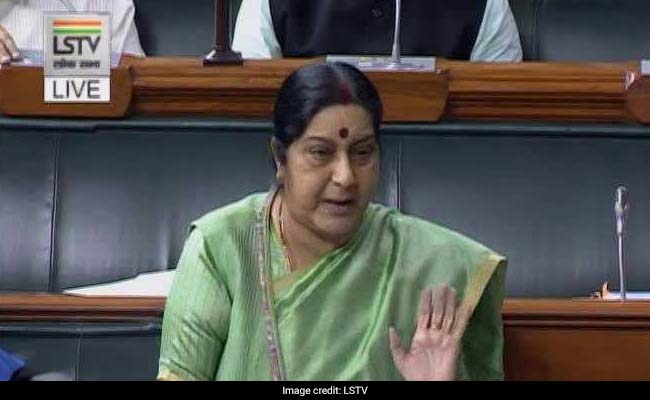 Highlights
Sushma Swaraj informs Parliament that "not an iota" has changed in Doklam
Rahul Gandhi tweets report claiming China quietly resumed work in Doklam
Tensions between India and China had peaked during 73-day Doklam standoff
New Delhi:
Rahul Gandhi today attacked Foreign Minister Sushma Swaraj over her statement in parliament yesterday on the Doklam standoff with China. The face-off was resolved through "diplomatic maturity" and there was "not an iota of change" in status quo on the ground, Sushma Swaraj had said in the Lok Sabha.
Rahul Gandhi tweeted his acerbic response, along with a news report that quotes a top US official as saying China has quietly resumed its activities in the Doklam area and neither Bhutan nor India has sought to dissuade it.
"Amazing how a lady like Sushma ji has buckled and prostrated herself in front of Chinese power. Absolute subservience to the leader means our brave jawan has been betrayed on the border," the Congress president tweeted.
The foreign minister had said in the Lok Sabha yesterday that the Doklam standoff had been "resolved with diplomatic maturity without losing any ground".
She said: "There is no change in the status quo (on the ground). There is not an iota of change. The face off at sight has been resolved on August 28, 2017."
Talk of China's activities in Doklam came up during a US Congressional hearing of the House Foreign Affairs Sub-Committee for Asia and the Pacific, when Congresswoman Ann Wagner posed a question to a State Department official.
"Although both countries backed down, China has quietly resumed its activities in Doklam and neither Bhutan nor India has sought to dissuade it. China's activities in the Himalayas remind me of its South China Sea policies. How should our failure to respond to the militarisation of the South China Sea inform the international response to these Himalayan border disputes?" Ms Wagner asked Alice G Wells, referring to Beijing's actions in the Himalayan region and compared them with its manoeuvres in the disputed South China Sea.
Ms Wells did not directly refer to Doklam, but told Wagner and other lawmakers: "I would assess that India is vigorously defending its northern borders and this (the situation at the northern borders) is a subject of concern to India."
Tensions between India and China peaked during the 73-day standoff in Doklam near Bhutan over Beijing's construction of a road. The standoff ended after both sides agreed to disengage.