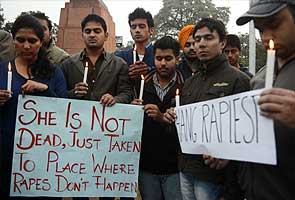 New Delhi:
The young woman who died after being gang-raped in Delhi was to marry her boyfriend who was injured in the same attack, neighbours said on Sunday.
A neighbour said that she had been shopping with the 23-year-old medical student for wedding outfits and the contents of a wedding box known as trousseau.
"They had made all the wedding preparations and had planned a wedding party in Delhi," she told reporters. "We know that she was going to get married in February," she said. "The whole neighbourhood was excited about it."
The boyfriend also suffered serious injuries during a prolonged assault on a bus on the night of December 16 after they had spent the evening watching a movie at a multiplex in the Saket district of Delhi. He has not spoken since the attack which reports said began when he defended his girlfriend after she was initially verbally abused by a group of six men.
Apple of her father's eye
The girl was the apple of her father's eye and her friends were convinced she would achieve great things after completing her medical studies.
While India has seen an outpouring of grief for the 23-year-old who suffered fatal injuries when she was gang-raped on December 16, those who actually knew her paint a portrait of a young woman who was both in love and much loved.
Although not formally engaged, it was well-known by her friends that she was planning to marry the boyfriend who also suffered serious injuries in the same attack that would ultimately lead to her death.
The young couple had spent the evening together at a mall watching The Life of Pi before they boarded a bus they thought would take them home.
The everyday image of a young couple enjoying a night out at the movies has been cited by many people to explain why they have been able to relate so much to the plight of someone whose name they will never know.
But others have identified with the backstory of a hardworking student whose family hail from rural India but who was looking to make a name for herself as a young urban professional with the eager backing of her proud parents.
Her parents sold their small piece of land in rural Uttar Pradesh in order to fund their daughter's education, often limiting their own meals to little more than
rotis
with
namak
(bread with salt).