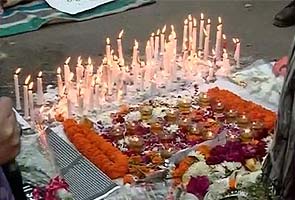 New Delhi:
The trial of the five men accused of gang-raping and murdering a medical student on a bus in Delhi will formally start today. The prosecution has called four witnesses, including a software engineer who was with her and tried to protect her from the men. The police says the gang then turned on him with an iron rod and forced her to the back of the bus before they took turns raping the student.
The savagery of the assault - the couple was thrown naked and bleeding onto the road- sent shock waves through India, which realigned its anger and grief into street protests demanding better policing for women, stricter anti-rape laws, and swift justice for the student who died in a hospital in Singapore two weeks after the gang-rape.
Before she died, 23-year-old Amanat (NOT her real name) recorded her testimony for a judge; for the prosecution, her statement along with that of her friend's, will be crucial.
The five suspects on Saturday pleaded not guilty to the charges that were read out to them. If convicted, they could face the death penalty. A sixth, who is a juvenile, is being tried separately and faces a maximum sentence of three years in a reform facility. Amanat's family says this is a travesty.
Among the other witnesses scheduled to appear in court tomorrow is a guard who was on his way to work at the Delhi-Gurgaon toll plaza when he saw the couple lying bleeding on the road, and phoned the police for help.
Amanat's friend has said that when three police vans arrived, the cops argued about who should take charge of the case and which hospital the couple should be moved to.
In response, the Delhi High Court recently ordered the police to ensure that jurisdiction must not stop a police officer from taking charge of a crime and that those injured must be rushed to the nearest hospital, irrespective of whether it's run by the state or privately-owned.