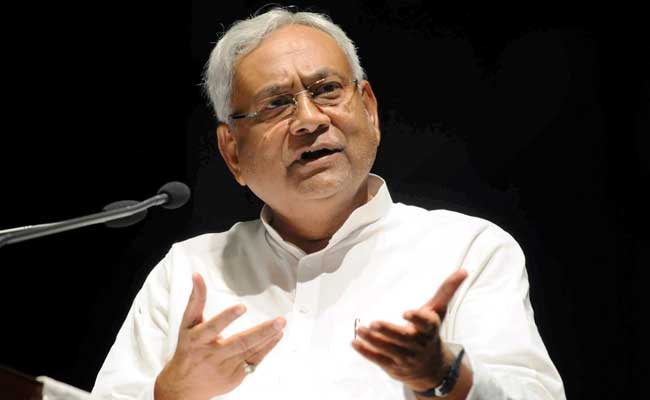 Highlights
Nitish Kumar rules out simultaneous State and Parliamentary polls in 2019
Nitish Kumar: Simultaneous polls "not feasible" in Gujarat, Karnataka
NDA ally's stand seen to put Mr Kumar on the same side as the Opposition
New Delhi:
BJP ally Bihar Chief Minister Nitish Kumar today ruled out any possibility of holding state assembly polls with Parliamentary Polls next year, and said simultaneous elections would not be "feasible" for states like Gujarat or Karnataka. The comment put to rest speculation about early polls in the state. It was also seen to put Mr Kumar on the same side as the opposition -- a first since he ended the grand alliance with the Congress and Lalu Yadav last year and partnered with the BJP to form a new government.
The idea of simultaneous elections to the states and Parliament has been pitched by Prime Minister Narendra Modi, to which the opposition has vehemently objected.
Speaking at an internal conference of his party in Patna, Nitish Kumar said the assembly polls will take place at due time in October-November 2020 and it would not be held next year as is being speculated by a section of the media.
The talk of early polls in Bihar gathered momentum after Nitish Kumar's arch rival Lalu Yadav was convicted in two successive cases of fodder scam. His absence from state politics was seen as a plus for the NDA. Yesterday, RCP Singh, a senior leader of Mr Kumar's party, had hinted that the Janata Dal United will be ready for assembly poll any time after May this year - a comment that had fed the speculation.
Nitish Kumar said even though he is in favour of simultaneous polls, it is not "feasible".
"Do you think we should hold another election in Gujarat where the poll has just taken place, or Karnataka where elections are due in next few months?" Mr Kumar said.
He, however, added that had the Bihar assembly polls been held along with the general elections in 2014, his tally in state assembly as well as parliament would have been better than the current figures.
The question of feasibility has been repeatedly raised by opposition parties like the Left, the Aam Aadmi Party and the Congress. They have also said simultaneous elections will be against federal principles.
PM Modi has repeatedly asked all parties to rise above politics and consider it. He has even raised the in parliament, pointing out that it would cut down the cost of elections in terms of both time and money.
Last week, a parliamentary committee to discuss the idea held its first meeting. The meeting remained inconclusive, with opposition leaders pointing out the hurdles, a senior BJP leader had said.