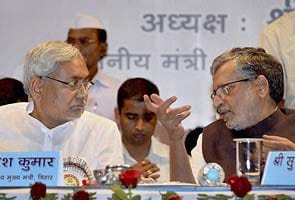 Patna:
The war of words between Bihar's ruling coalition partners - the Janata Dal-United (JD-U) and the Bharatiya Janata Party (BJP) - over Gujarat Chief Minister Narendra Modi's suitability as a prime ministerial candidate continued with both sides attacking each other on the issue.
Bihar Information and Public Relations Minister and JD-U leader Brishen Patel said Mr Modi will not be acceptable to his party as a prime minister.
"It is certain that JD-U and BJP are moving in different paths over it," Mr Patel told media persons in Patna today.
"It appears that the alliance is in its last phase," he said, but ruled out any threat to the Nitish Kumar government in the state.
Another senior JD-U leader, Gyanendra Kumar Singh Gayanu said that if the BJP continues to keep Mr Modi in front, then the alliance between the JD-U and the BJP will break.
"It is for BJP to decide. JD-U has already made its stand clear in case of Mr Modi," said Mr Gayanu, who also heads the disciplinary committee of the party and is considered close to Nitish Kumar.
On the other hand, state Health Minister and BJP leader Ashwani Kumar Choubey asserted that Mr Modi is secular and did not require a certificate from any one. "It is wrong to say that Mr Modi is not secular. He is a secular leader," he said.
His party colleague and Animal Husbandry Minister Griraj Singh claimed that Mr Modi is demand of the people across the country.
"Mr Modi is most popular leader in the country and people want him to lead the country," he said.