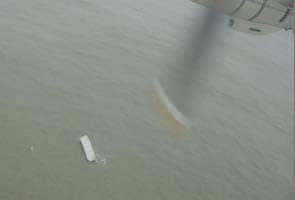 Ahmedabad:
An alert has been sounded by the Gujarat Maritime Board (GMB) for ships approaching Gulf of Kutch, after 17 containers on board vessel MV Rajeev Gandhi slipped off Okha West and began floating in the sea, an official said.
"About 17 containers slipped from MV Rajeev Gandhi, a vessel container of Shipping Corporation of India (SCI), off Okha West coast on June 27 when it was on way to Mundra port," Chief Nautical Officer (CNO) of Gujarat Maritime Board SC Mathur said.
"The containers are floating in the sea posing danger to vessel traffic movement," he said.
"All the authorities concerned like Indian Coast Guard (ICG), Director General of Shipping and SCI have been informed about the incident, and our Vessel Traffic Management System (VTMS) in Gulf of Kutch is issuing alerts," he said.
The ICG is keeping a constant vigil on the container movement in the sea, Mr Mathur said.
According to GMB, 16 containers onboard Rajeev Gandhi vessel that slipped were empty, while one contains high density polyethylene (HDPE).
A tug from Jamnagar port has been deployed to keep a constant vigil over containers and push them towards coast.
"We have kept one tug Varun-1 on constant vigil for last three days and the same is moving around the location of containers to ward them off from channel and to warn passing vessels. VTMS too is conveying warnings (to ships)," Mathur said.
"Meanwhile, one of the containers has drifted and entered the deep water root off Okha port, posing a threat to vessel traffic movement," he said.