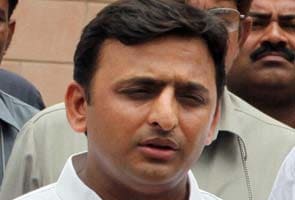 Lucknow:
Stung by the overwhelming criticism that came his way yesterday, Uttar Pradesh Chief Minister Akhilesh Yadav today withdrew his offer to the state's MLAs that they could use constituency funds to buy a car.
"I take back that decision because the media did not interpret this decision in the right manner. And our MLAs also said they don't want to use their funds for buying cars," Mr Yadav said today.
The controversial move would have allowed legislators in Uttar Pradesh to buy a car worth Rs. 20 lakh. This meant a whopping Rs. 81 crore would have been spent if all 403 MLAs in the state decided to buy a car.
Mr Yadav had proposed in the state assembly yesterday that the money to buy a car would come from the 'development funds' which each MLA gets for his constituency. After this decision, the fund had been increased by Rs. 25 lakh to Rs. 1.5 crore.
Mr Yadav had also proposed that cars could be returned to the government after 5 years or be bought by the MLA at a depreciated value.
Most political parties had immediately rejected the proposal.
"This is not a sound policy decision. This money is for development, and it's being used for a personal work. Our party has decided not to use it," said BJP's Kalraj Mishra yesterday.
Leader of opposition Swami Prasad Maurya said, "This is not appropriate. This will not send a right signal amongst the people. BSP MLAs will not take cars from their funds."
Some from within Mr Yadav's party had also rejected this option. K Ravi Das Mehrotra, an MLA from the Samajwadi Party, said he would not buy a car as this was public money; he would use the money for developing his area.
Mr Yadav's Samajwadi Party quickly came to his defence, with seasoned politician and minister Azam Khan saying, "There are some MLAs who can't afford a car. This scheme is meant for them.
The Akhilesh Yadav government is reportedly already struggling with funds for its populist schemes like free laptops tablets and an unemployment allowance for the youth.