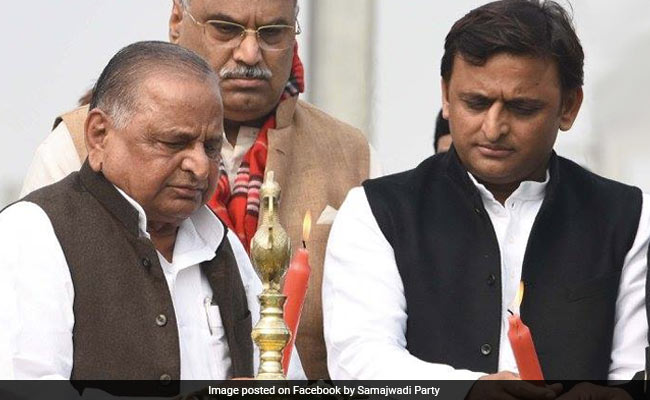 Lucknow:
Akhilesh Yadav today visited his father Mulayam Singh Yadav at his Lucknow home and invited him to a key meeting next week of the Samajwadi Party, which he now heads after a bitter tussle for power early this year. It is believed to be the first meeting between the two in many months.
The Samajwadi Party's national executive will meet in Uttar Pradesh's Agra on October 5. Akhilesh Yadav's visit is seen as a sign that a patch-up could be in the works between the estranged father and son. Another such signal came three days ago, when Mulayam Singh did not, as widely expected, announce a new party.
He declared instead that it was Akhilesh who quit the Samajwadi Party and that "He is my son and so has my blessings but I do not agree with his decisions." He recalled that his son had promised to return the post of party chief within three months of the UP elections in March, but that was yet to happen. "A big leader of this country said one who can't honour promises to his father, how can he be there for the people," Mulayam Singh said cuttingly.
Akhilesh Yadav merely tweeted in response, "
Netaji zindabad, Samajwadi Party zindabad
!"
Mulayam Singh founded the Samajwadi Party over 25 years ago, but early this year, before assembly elections in Uttar Pradesh, was sidelined by his son who was then the state's Chief Minister. Akhilesh Yadav replaced his father as party chief and consigned him to a mentorship role.
A bitter Mulayam Singh did not participate in the UP elections, in which his son suffered a massive loss at the hands of the BJP. Relations since then have remained frosty, marked by periodic public takedowns of Akhilesh Yadav by his father.
Both Mulayam Singh Yadav and his younger brother and Akhilesh's bitter rival Shivpal Yadav had pointedly stayed away from a recent Samajwadi Party meeting saying they were not invited. They were expected to announce a new party, but that did not happen and Mulayam Singh said, "I am not forming any new party as of now."