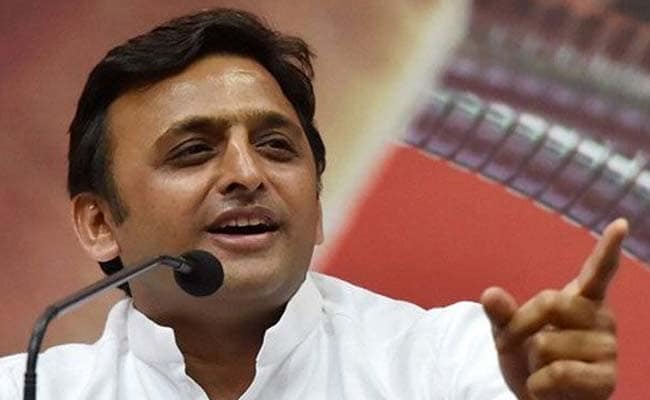 Etawah:
As the annual 'Saifai Mahotsava' began with much fanfare Uttar Pradesh Chief Minister Akhilesh Yadav was conspicuous by his absence on the inaugural day triggering speculation he might be "upset" with expulsion of two of his close aides from the party.
While there was no official word from the ruling Samajwadi Party or the government as to why the chief minister skipped the inaugural session yesterday, the party sources said he was "upset" over sacking on Friday of his two close aides - Sunil Yadav alias Sajan and Anand Bhadauria.
Mr Sajan was national president of SP Chhatrasabha, while Mr Bhadauria was former national president of Lohia Vahini.
Another SP leader Subodh Yadav, son of the party's legislator from Etah Rameshwar Yadav, was also expelled - all three on the charges of "anti-party" activities.
The 17-day annual family fiesta, being held for the last 18 years at the native place of Samajwadi Party chief Mulayam Singh Yadav, is likely to see performances by singer Rahat Fateh Ali Khan, ghazal singer Peenaz Masani and several Bollywood stars.
All members of the Yadav family usually attend the inaugural session of the Mahotsav. Last year too, Mr Akhilesh Yadav was present, along with wife Dimple and their children.
The festivities were inaugurated yesterday, as per tradition by the SP chief, with brother and cousin Shivpal and Ram Gopal in tow.
Mr Ram Gopal lit the lamp and performed the 'puja' and took part in 'Hawan' to mark the beginning of the festivities.
While declaring the festival open, Mr Mulayam Singh lashed out at the Centre and said it had failed to fulfil the election promises it had made to the people.
"People neither got work nor the Rs 15 lakh promised to them. Now, the country's treasury has also gone empty. In such a condition, where the country's development is headed is known to all," he said.
Mr Mulayam Singh also said UP has been ranked third among other states in terms of its growth rate. "To my mind, UP is on Number 1 position. Without involving UP, the country's growth is impossible," he said.
The SP chief said UP has given three Prime Ministers and talents in every field. He said the SP government "fulfilled" its promises in two- and-a-half years which no other state government has been able to do.
Mr Mulayam Singh said previous governments did not perform well as a result of which development of the state took a backseat.