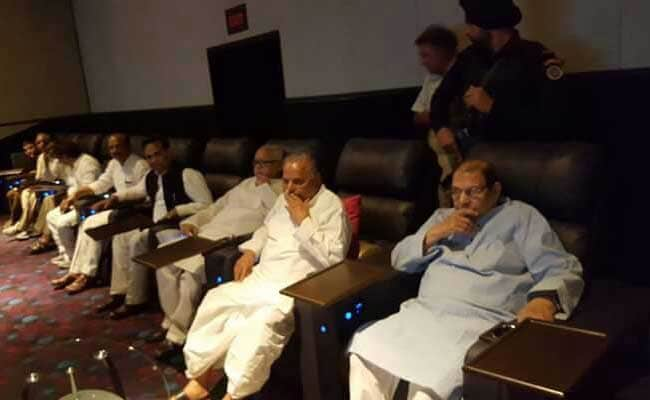 Lucknow:
And now, Samajwadi Party founder Mulayam Singh Yadav also knows why Katappa killed Baahubali. The 77-year-old leader couldn't take the suspense any longer and landed up on Tuesday evening at the Gold Lounge of Lucknow's Wave Mall to watch Baahubali 2, the SS Rajamouli blockbuster that has set a new benchmark for earnings in Bollywood.
Mulayam Singh had watched the first instalment two years ago, his first film in 14 years. He enjoyed it and then agreed to watch the historical romance Bajirao Mastani too when it released seven months later.
Since then, his aides say, there had been another long break from watching movies as Mr Yadav got embroiled in an ugly family feud between his son Akhilesh Yadav and brother Shivpal Yadav. The drama in the first family of the Samajawadi Party though did justice to every cinematic tradition.
It was not a family outing on Tuesday evening. Mr Yadav watched the movie with two old friends and two politicians and Akhilesh Yadav baiters, Ashu Malik and Mohammad Shahid. It was seen as a sign that father and son continue to be estranged.
A Samajwadi Party member of the legislative council, Ashu Malik is known for his proximity to Shivpal Yadav. Last October, it was Ashu Malik's complaint of assault against Tej Narain Pandey, a minister in the Akhilesh Yadav Cabinet, had led to the power struggle between uncle and son becoming public.
Mohammed Shahid was among five leaders expelled by Akhilesh Yadav, who is Samajwadi Party chief, last week for anti-party activities. Mr Shahid too is close to Shivpal Yadav who recently announced his resolve to launch a secular front, Samajwadi Secular Morcha, to be led by Mulayam Singh, if Akhilesh does not reinstate his father as Samajwadi Party chief.
Just before crucial assembly elections in Uttar Pradesh earlier this year, Akhilesh Yadav had staged a coup, replacing his father as chief of the party he founded 25 years ago. He did that, Akhilesh said, to safeguard the Samajwadi Party against what he called the Machiavellian designs of his uncle Shivpal, who had the constant support of Mulayam Singh. He had promised to restore his father in the top post after the elections, but is yet to do so.
The Samajwadi Party was steamrolled by the BJP in the UP elections, a humiliating loss attributed to the party being in utter disarray just before the polls.