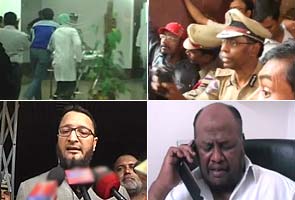 Hyderabad:
Majlis-e-Ittehadul Muslimeen (MIM) MLA Akbaruddin Owaisi, who was stabbed and shot at by a rowdy-sheeter in Hyderabad on Saturday, is said to be stable after a second surgery today.
Owaisi was shifted to Care Hospital Saturday night from Owaisi Hospital, where he was admitted soon after the assassination attempt. The MIM leader suffered injuries to his left kidney, urinary bladder, upper portion of large intestine and upper limb, said doctors.
Uneasy calm prevailed in the city as shutters were down and security personnel were deployed in large numbers, in response to a bandh call given by the MIM, coinciding with May Day.
"No one will be spared. Neither the perpetrators, nor those on whose behalf they may have been acting," said A K Khan, the Police Commissioner of Hyderabad.
Police have arrested Mohammed Pehlwan, suspected to be the mastermind behind the attack. He had a long running dispute with the legislator over a piece of land.
Hyderabad MP and MIM president, Asaduddin Owaisi, who is also Akbar's elder brother, hinted at a political conspiracy and not just a personal dispute.
"We will finish them democratically and legally. People are with us. As Owaisi family, we will not be cowed down by such attacks," Asaduddin said.