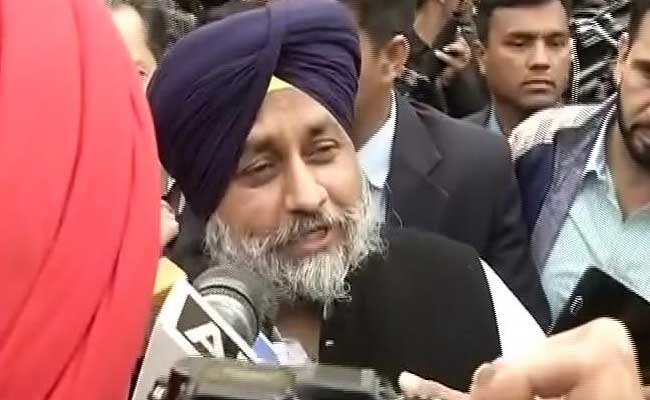 Chandigarh:
The Shiromani Akali Dal today expelled senior leaders Ranjit Singh Brahmpura and Rattan Singh Ajnala from the party's primary membership for six years, accusing them of indulging in "anti-party activities".
Mr Brahmpura's son Ravinder Pal Singh Brahmpura and Mr Ajnala's son Amarpal Singh "Bonny" Ajnala have also been expelled, Akali Dal leader Harcharan Singh Bains said in Chandigarh.
Mr Bains said that the two leaders along with their sons, "have recently been acting in a manner which showed utter insensitivity and disregard for the immense respect and the liberal and magnanimous treatment extended to them by Parkash Singh Badal and party president Sukhbir Singh Badal".
Mr Brahmpura, member of parliament from Khadoor Sahib, had resigned last month as the party's senior vice-president as well from its core committee citing age and health reasons. Mr Ajnala represented the Khadoor Sahib constituency before Mr Brahmpura.
The Akali Dal had recently expelled another senior leader Sewa Singh Sekhwan from the primary membership of the party shortly after he had announced his resignation as the party's senior vice-president and from its core committee. All the three leaders are from the Majha region, the northwestern part of Punjab.
The first signs of trouble for the Akali Dal came with the Ranjit Singh panel report into the 2015 sacrilege cases and subsequent police firing. The report hinted that the sacrilege cases were linked to the Akal Takht's decision to pardon Dera Sacha Sauda chief Gurmeet Ram Rahim in a blasphemy case, allegedly secured by Parkash Singh Badal. It also accused Sukhbir Badal of being in touch with police officials behind the firing on protestors who were demanding that those responsible for the sacrilege be punished. Two people were killed in police firing in Behbal Kalan in Moga district.
Soon after the report's findings became public, a number of Taksali (old guard) leaders began criticising Sukhbir Badal's style of functioning. Rajya Sabha member Sukhdev Singh Dhindsa resigned from the party as well as the upper house on September 30.
After his resignation, Mr Brahmpura, Mr Ajnala and Mr Sekhwan virtually raised a banner of revolt at a joint press conference saying that "all was not well within the party".
Reacting to his expulsion, Mr Brahmpura said that he wasn't surprised and alleged that Sukhbir Badal and his brother-in-law Bikram Singh Majithia had "hijacked" the Akali Dal.
However, Mr Bains claimed that both Mr Brahmpura and Mr Ajnala were given preferential treatment by the Badals and it was their "indiscipline" that had led to their expulsion.