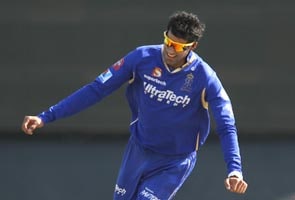 New Delhi:
New revelations have emerged in the spot-fixing probe that has taken the cricketing world by storm. The Delhi Police today claimed that cricketer Ajit Chandila was paid Rs 15 lakh by bookies for spot-fixing in an Indian Premier League (IPL) match which was played in Hyderabad on May 17.
However, Chandila, who played for Rajasthan Royals, could not spot-fix in that match, as he was arrested a day before, on May 16.
The police claim that Chandila was paid this Rs 15 lakh in April as advance for spot-fixing by a bookie named Deepak in Chandigarh. Deepak's group of bookies operated from Punjab. Bookies from his group were arrested by the Delhi Police on Thursday.
This Rs 15 lakh is separate from the Rs 20 lakh recovered from Chandila's cricket kit bag at his relative's house in Faridabad on Monday. Chandila was reportedly in touch with four different sets of bookies.
Two other groups of bookies - Tinku Mandi gang from Delhi and Chandresh gang from Mumbai - are already under arrest.
The police are now on the lookout for the fourth set of bookies that Chandila had worked with.
Chandila, his teammates, Test cricketer S Sreesanth and Ankeet Chavan, were arrested for spot-fixing on Thursday. Their voice samples have been collected to be matched to those in thousands of phone conversations intercepted by the police during their investigations into spot-fixing during the ongoing IPL tournament.