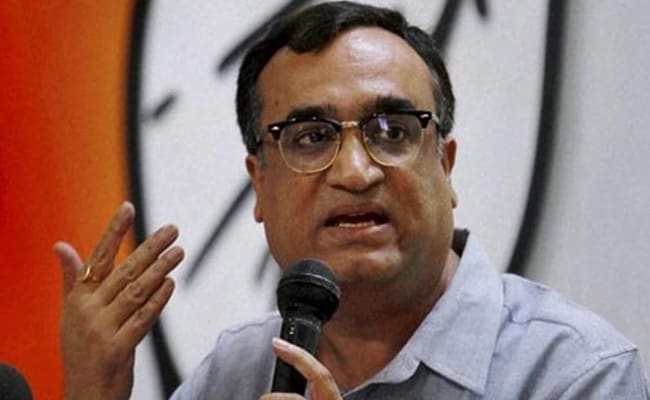 Highlights
Ajay Maken has led the Congress in Delhi since 2015
Mr Maken is believed to have left for treatment abroad
His wrote to Rahul Gandhi, resignation reportedly not been accepted yet
New Delhi:
The Congress on Tuesday denied reports that Ajay Maken has resigned as its Delhi chief but clarified that he has "temporarily stepped down" because of a health problem. The former parliamentarian has led the party in the capital since 2015.
Ajay Maken, 54, has left for treatment abroad but the party said there is "no truth" to reports that he has quit his post.
Congress leader PC Chacko told NDTV that he was "filling in" for Mr Maken until his return on September 23.
"Ajay Maken has some health problem and has gone for a medical check-up. He has temporarily stepped down for his check-up and informed me and the Congress president (Rahul Gandhi). He'll be back next week and probably he's little worried that he can't devote full time or travel the way he wants," said Mr Chacko.
"On his return, we will discuss working arrangements, but the fact is he has not resigned," he added.
Mr Maken had "recently met Rahul Gandhi", the Congress said in a statement.
The reports have hit the party at a time it is prepping for the national polls just about right months away.
Mr Maken, who replaced Arvinder Singh Lovely as Delhi Congress chief three years ago, had resigned in May last year when the party did not perform well in civic polls. But he took it back reportedly after Rahul Gandhi, then vice president, asked him to continue.
Mr Maken, in the past few months, is seen to have been at odds with the central leadership over the possibility of an understanding between the Congress and Arvind Kejriwal's Aam Aadmi Party (AAP), which ended the Sheila Dikshit-led Congress government's 15-year run in 2013.
Mr Maken has been dead opposed to a tie-up with AAP ahead of the 2019 national election, which presents the Congress with a dilemma at a time it is trying to rally all opposition forces against the BJP.
Mr Chacko, responding to questions today, ruled out any alliance with AAP. "I can tell you there will be no alliance with AAP. It is spreading rumours. I have already discussed with top leaders, no electoral alliance can happen with AAP in Delhi," said the Congress leader.
A two-time parliamentarian and three-time legislator, Mr Maken was a union minister when the Congress was in power at the centre.