Bharti Airtel is offering international roaming plans at Rs. 83 per day in countries including Australia, Malaysia and Singapore. The benefits include unlimited incoming calls and free minutes for India and local calls. Airtel's international roaming pack priced at Rs 3,999 for countries including the US and the UK comes with a validity of 30 days, according to Airtel's website - airtel.in. This pack includes 5GB of data, unlimited incoming calls and 500 minutes of outgoing local calls as well as calls to India, according to Airtel. The Rs 3,999 pack comes at an effective rental of Rs 133 per day, it noted.
There's an International Roaming pack for every place – big or small. https://t.co/eZCKh9s6k8

Join us on Instagram: https://t.co/tE6wu0PhZtpic.twitter.com/s8qcXCYhvm

— airtel India (@airtelindia) July 10, 2017

Rs 2,999 for 10 days
Bharti Airtel, India's largest telecom operator, is also offering a pack priced at Rs 2,999, valid for 10 days. This pack comes with 3 GB of data and 250 minutes of calls to India and local calls, among other benefits.
Rs 649 for one day
Airtel offers a one-day pack priced at Rs 649. Benefits offered along with this international roaming pack include 5 GB of data and 500 minutes of local calls and calls made to India.
All three of Airtel's international roaming packs - Rs 2,999, Rs 3,999 and Rs 649 - come with unlimited incoming calls and 100 SMSes. They are available for roaming in a number of countries including Canada, Korea, China, Kuwait, Taiwan, Mexico and the Netherlands, according to the Airtel website.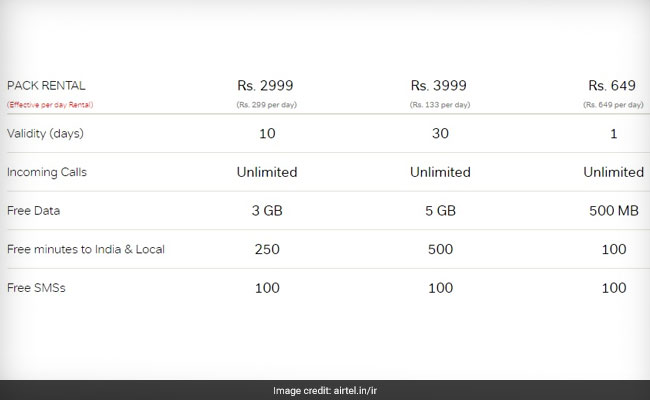 Airtel is also offering international roaming packs priced at Rs 499, Rs 1,199 and Rs 2,499 in countries including Australia, Bangladesh, Malaysia, Singapore and Sri Lanka, the portal showed.
The Rs 499 roaming pack comes with a validity of one day and 500 MB of data. The Rs 1,199 roaming pack comes with six times more data of 3GB with a validity of 10 days. Valid for 30 days, the Rs 2,499 pack offers 5 GB of data. The local calls and roaming calls to India under these packs are at 100 minutes, 250 minutes and 500 minutes respectively, the Airtel website showed.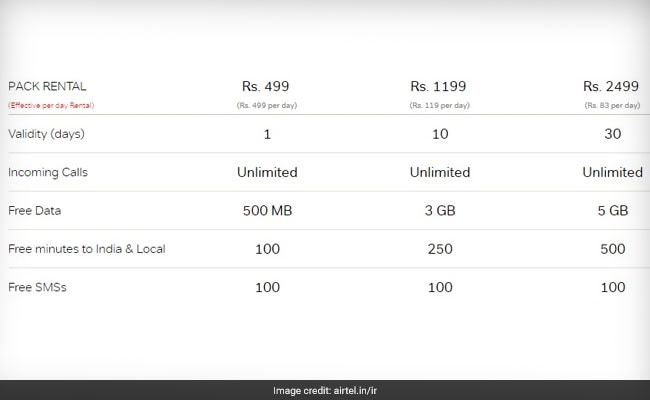 Of these, the roaming pack priced at Rs 2,499 - valid for 30 days - comes at an effective rental of Rs 83 per day, according to the website.
Airtel had last year launched its new international roaming (IR) packs aimed at creation of value proposition for customers travelling abroad.
"With the new IR packs, customers will have the convenience of carrying their India mobile number wherever they go and stay connected 24x7 without having to worry about high call and data charges," it had said.
Get Breaking news, live coverage, and Latest News from India and around the world on NDTV.com. Catch all the Live TV action on NDTV 24x7 and NDTV India. Like us on Facebook or follow us on Twitter and Instagram for latest news and live news updates.