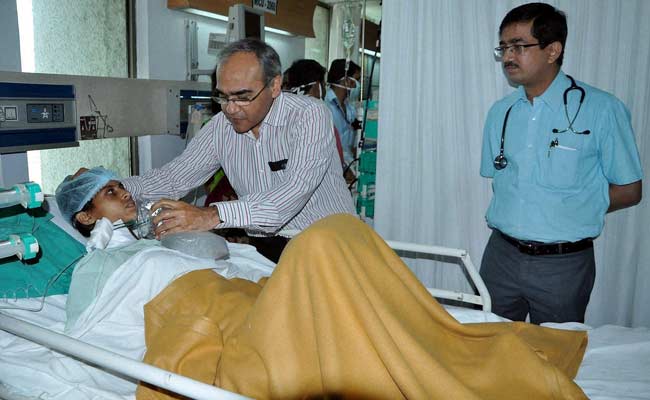 New Delhi:
Health Minister J.P. Nadda said on Friday that the four AIIMS doctors sent to a mass sterilization camp in Chhattisgarh after 13 women died had helped set up proper norms there.
The four doctors of the All India Institute of Medical Sciences (AIIMS) were sent on Tuesday evening on the ministry's recommendation after 13 women died and over 70 were hospitalized after botched tubectomy procedures in Bilaspur district.
"The AIIMS doctors have guided the doctors and helped them set up proper norms. The doctors there have been asked to adhere to it," said Mr Nadda.
Speaking on the sidelines of a blood donation camp organised by Central Reserve Police Force and AIIMS, Mr Nadda said the judicial inquiry ordered by the Chhattisgarh government would get all help from New Delhi.
"The thing to be noted is that the sterilization process was not target driven but demand driven," he added.
M.C. Misra, the AIIMS director, said there was a need to improve the proper institutionalization of such mass sterilizations in the country.
"As the doctors have returned, it is learnt that the problem basically occurred due to improper medication after the women underwent the sterilization process," Mr Misra told IANS.
Mr Nadda also stressed the need for every institution and department to take initiatives to raise awareness of blood and organ donation.
"There is a need to replicate the initiatives that AIIMS and paramilitary forces like CRPF have taken," he said.
Around 1,100 CRPF troopers donated blood at the camp. The soldiers also took a pledge to donate their organs after their death.