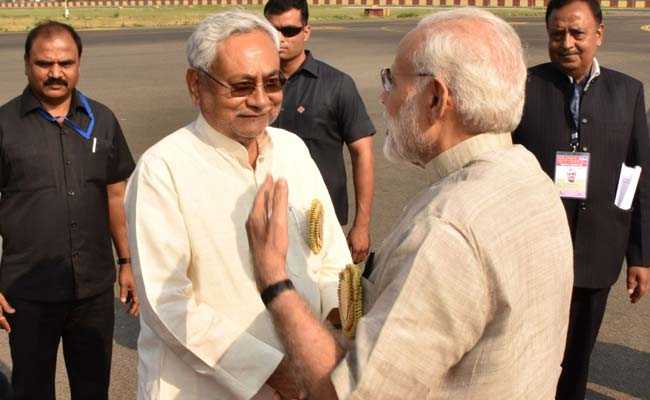 Patna:
On June 7, Bihar Chief Minister Nitish kumar will share stage with almost all legislators, parliamentarians and union ministers of the BJP-led National Democratic Alliance (NDA) from Bihar and will talk about four years of Prime Minister Narendra Modi's government at the centre. But for a week now, there have been signs that the Chief Minister is not happy with his ally BJP. When he dodged a question on the Modi government's fourth anniversary and said "Sushil Modiji bolenge" (Sushil Modi will speak), it was seen as a giveaway. Sources say there's hardly any scope for Mr Kumar to go back to the RJD and Congress. Many BJP leaders say all this is posturing by Mr Kumar, used as a bargaining chip in the run up to next year's general elections.
10 reasons why Nitish Kumar is upset with PM Modi
Nitish Kumar is most unhappy about the central government agreeing to send just Rs. 1,200 crores against over Rs. 7,000 crores he had asked as compensation for the floods that ravaged Bihar last year, killing over 500 people. A miffed Nitish Kumar, say sources in the JD(U), even contemplated returning that money. He didn't, of course. Even BJP leaders concede that the centre could have ensured a bigger amount.

Last year, at the convocation of Patna University, Mr Kumar publicly nudged PM Modi to enable central university status for the institution but the Prime Minister swerved it. Till now, there has been no alternative suggestion from the centre, say Nitish Kumar's supporters.

When Mr Kumar switched sides last July and returned to the NDA fold, he told officials that a meeting would be held in Delhi "soon" with PM Modi and others to discuss the development of Bihar. So far, no meeting has taken place. BJP leaders, however, say several union ministers did call the Chief Minister for discussions, unlike before, so he shouldn't complain.

There were promises in the Bihar Package announced by the Prime Minister in August 2015 during the campaign for the Bihar assembly polls, but Mr Kumar feels there is no sincerity in execution, said a leader from his party JD(U).

The JD(U) chief is also not very happy with the change in funding pattern of the centre. Earlier, central disbursement used to be on monthly basis. This has now become quarterly, which has hit the state's finances.

Nitish Kumar is yet to come to the terms with how BJP leaders and workers took out a communally charged swords procession in Bhagalpur, creating a law and order problem and exposing Mr Kumar to barbs from opposition leader Tejashwi Yadav, the son of Lalu Yadav, who reminds him that his father didn't take time to arrest the BJP's LK Advani when his Rath Yatra to campaign for a Ram temple was vitiating communal harmony.

When it comes to his ministerial colleagues, Nitish Kumar never had any problem with Sushil Modi or Nand Kishore Yadav of the BJP. But sources in the JD(U) say, Mr Kumar is upset with embarrassing remarks made by central ministers like Giriraj Singh and Ashwini Choubey.

After rejoining the NDA fold last year, Mr Kumar may have expected some role within the alliance. But so far, he has not been called for a single meeting.

The Bihar Chief Minister was also not very happy when the BJP top leadership forced his party to contest the Jehanabad by-elections and campaign for NDA candidates in Araria, Jehanabad and Bhabhua bypolls held earlier this year. Mr Kumar has always believed there's no point contesting any by-election held due to the death of a lawmaker from an opposition party.

In the reshuffle of PM Modi's cabinet in September last year, not a single JD(U) nominee was included. Nitish Kumar's close aide Ramchandra Prasad Singh had been waiting for a call.
Post a comment