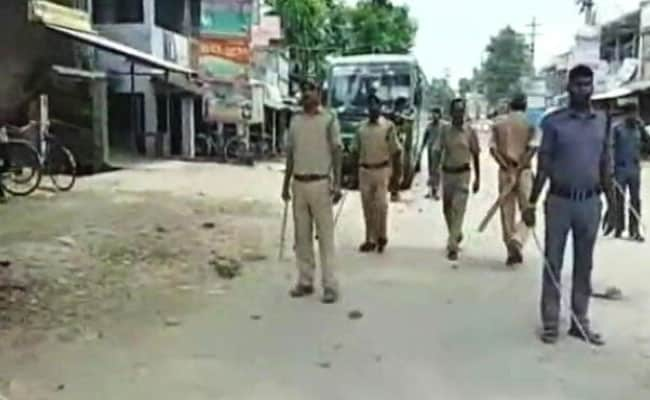 New Delhi:
In Bengal, prohibitory orders were imposed at Mothabari in West Bengal's Malda district on Tuesday and stayed in force today after a mob threw bricks at the police and blocked a road near the police station for several hours. The protestors were demanding the arrest of the men who beat up the driver of a tractor so badly after he ran over a teenaged girl, he died.
The police had to impose Section 144 on Tuesday and go around Mothabari with mikes calling for calm after the incident indeed took on communal colour.
Rapid Action Forces were deployed and schools stayed shut even today.
Chief Minister Mamata Banerjee, at a public rally in Midnapore today, blamed the BJP and its associates for using such incidents to incite communal violence. "They will teach us how to pray, they will come on the streets with swords. If there is an accident, they will say the driver is Muslim and the victim Hindu, so let's burn down the Muslim driver's house. What is this they are doing?" she said.
Mothabari is about 30 km from Malda town. It was under the Kaliachak police station earlier but was upgraded to a separate police station area some months ago.
Besides prohibitory orders, the police has also warned people not to pay heed to rumours and fake social media posts after a grisly video a man being brutally beaten went viral as video of the near lynching of the Muslim tractor driver.
Investigations have revealed it is an old video from outside Bengal, say police. The police superintendent of Malda district, Arnab Ghosh, said "This indicates that some person/persons with oblique motive is consciously trying to spread this video to keep tension in the area alive. Please pay no heed to this video."
Trouble began on Monday morning after a 14-year-old school girl was run over at Mothabari. Locals grabbed the driver of the tractor and beat him up. When the police arrived and rescued him, the 38-year-old man was alive but died at the Malda Medical College Hospital about five to six hours later.
Around midnight, when his body was sent to his home for last rites, a group of men arrived and literally "hijacked" the body, family members have told them, police claim. The youth told the family they would take the body and protest to demand a job for one member of his family.
So on Tuesday morning, the body was brought about 200 metres away from the Mothabari police station and a large crowd gathered demanding immediate arrest of culprits and the promised job to a family member.
As tempers rose, tyres were set on fire near the police station, a mob of some hundreds of people started throwing bricks. Police responded with a lathicharge. Barring some 40 'trouble makers", others fled. Another batoning and protestors began retreating, say police.
According to the tractor driver's family, they were going through hard times and the death is a blow as he was the sole bread earner in the family. His widow told the police he had not eaten properly for the last couple of days.
Police say 24 people have been arrested from both communities for the violence.