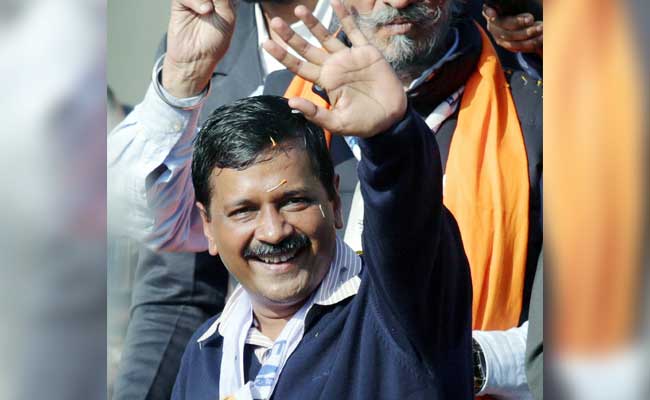 New Delhi:
Elections in Punjab and Goa are over, Delhi Chief Minister Arvind Kejriwal heads to Bengaluru tomorrow for about 10 to 12 days, officials said, to be treated for diabetes. His chronic cough has returned and he is also said to have had fever for some days. Mr Kejriwal will be treated at the Jindal Naturecure Institute, where he had spent two weeks in January last year.
Mr Kejriwal has been non-resident in Delhi for several weeks now and that status will be extended by his medical leave. Barring a few days when he returned to the capital for Republic Day celebrations, Mr Kejriwal was away campaigning extensively in Goa and specially Punjab, the two states where his Aam Aadmi Party is looking to expand its influence in this month's set of assembly elections. Voting was held in Punjab and Goa on Saturday and Mr Kejriwal returned to Delhi the next day.
As before, his deputy Manish Sisodia will be in charge when the Chief Minister is away. The national capital has been functioning with limited leadership in town for days, with both Mr Kejriwal and Mr Sisodia away campaigning. On some days, there was only a single minister available in Delhi - AAP has six ministers apart from Mr Kejriwal and Mr Sisodia.
"The chief minister's blood sugar level has shot up. He is taking insulin thrice a day to keep it under control," said a senior Delhi government official on Sunday, adding, "He will leave for Bengaluru on February 7 to undergo naturopathy treatment. Also, he has fever. He will be there for 12-14 days."
Mr Kejriwal had spent 12 days for naturopathy treatment at the Jindal facility for his chronic cough and diabetes in January last year. In September, he had throat surgery at the Narayana Hospital in Bengaluru for his cough.
In a four-minute video released late on Saturday, Mr Kejriwal appeared choked with emotion as he thanked party workers and volunteers for AAP's high-octane campaign in the two states.
"I am truly overwhelmed," said Mr Kejriwal, who looked visibly tired, adding, "We will surely win, people will surely win."
AAP flew in plane loads full of NRIs to campaign in Punjab, where the party is seen as having made decisive impact. "You guys are just amazing," said Mr Kejrwial to the party's NRI volunteers.