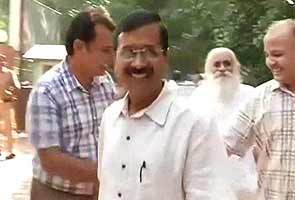 New Delhi:
Activist Arvind Kejriwal's courtesy call to his mentor, Anna Hazare, hasn't taken long to show dividends.
75-year-Anna said, in considerably gentler tones than used in the last few days, that both his protege and he have the same goal, but are using different paths to get there.
The agenda is to fight corruption, and the rift has been driven by Mr Kejriwal's political ambitions. He will launch a political party tomorrow, on Mahatma Gandhi's birth anniversary. Anna has said, "Politics is not sacred and it is full of dirt" and that the movement against graft has been damaged irreversibly by a faction's decision to go political. He did not name Mr Kejriwal, but the barbs have been frequent and apparent.
(Read: Politics is full of dirt, says Anna)
Mr Kejriwal said after meeting Anna that he had sought the Gandhian's blessings. Anna said hours later, "Good people in politics can make a difference." However, he said he will not reconsider his dictum that Mr Kejriwal's party cannot use either his photo or his name. From Mr Kejriwal's faction, allegations have emerged that the idea of a political party was first planted by Anna.
Mr Kejriwal was Anna's preferred aide in the India Against Corruption (IAC) movement that they frontlined. The divide was caused by Mr Kejriwal's decision to enter politics. Anna initially suggested that though he would not join the party, it would have its support. But in recent days, Anna has denounced the plans that led to the disbanding of India Against Corruption. Among the contentious issues facing the group of activists now is who will keep that name.
Anna has been meeting with volunteers and other activists like Kiran Bedi say their efforts must remain focused on checking graft, partly by continuing to campaign for the landmark Lokpal Bill, named after the national ombudsman it births, one that will be empowered to investigate venality among government servants.
(Read: Anna back in action, new team under Kiran Bedi: Sources)
In August, a six-day hunger strike led by Mr Kejriwal and other aides - Anna did not fast - was greeted largely by public disinterest, which emboldened the government to ignore the activists. Mr Kejriwal said that the administration's refusal to negotiate on matters like when the Lokpal bill would be turned into law, or electoral reforms declared the need of the hour by the activists, meant that there was no option but to launch "a political alternative." Anna said he would not contest elections or join a political party. He also flagged his areas of concern - the sort of funding needed for elections, he opined, would entail compromises for the movement; there was no way to prevent candidates from being corrupted once they were elected, he said.