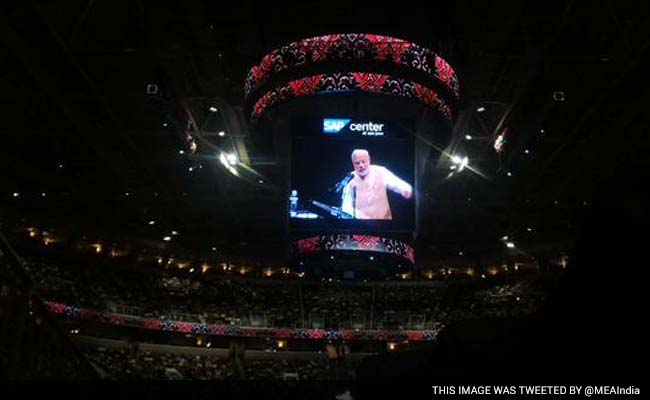 San Jose:
When he met Prime Minister Narendra Modi in New York on Monday, UK Prime Minister David Cameron quipped, "Very few leaders can fill the Wembley Stadium."
After the rock-star reception for PM Modi hosted by the Indian community in Silicon Valley over the weekend, there is much buzz about a bigger event planned at London's famous Wembley Stadium in November.
Around 75,000 people are expected at Wembley, said BJP leader Ram Madhav yesterday in San Jose, California, where PM Modi addressed 18,000 members of the Indian community in packed stadium.
While the government is yet to officially announce the dates for PM Modi's UK trip in November, the Wembley, a football stadium that seats 90,000 people, has been booked for Friday, November 13, for what is being called an Olympic-style reception hosted by the Indian community, 1.5 million strong in the UK.
Registration for the "grand community reception," for PM Modi will open in three days, says a website set up for the event.
"The British Prime Minister said that he was looking forward to PM Modi's visit to the UK," said Foreign Ministry Spokesperson Vikas Swarup after the two leaders met on the sidelines of the UN General Assembly session.
The Prime Minister, said Mr Swarup, invited David Cameron to become an active partner in the Make in India programme. The two leaders discussed bilateral and global issues such as terrorism, UN Security Council reforms and climate change.
Organisers have earlier said the programme at the Wembley will include a specially produced cultural show featuring well-known British Indian artists and a large fireworks display, as the visit is expected soon after the festival of Diwali, which is on November 11 this year.
The gold standard so far for receptions hosted by Indians for PM Modi on his trips abroad has been the one at New York's Madison Square Garden last year. 18000 people had attended that event. There were 8000 people at a similar event at the Ricoh Coliseum in Canada's Toronto, in April this year.