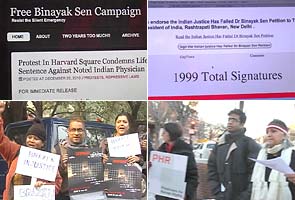 New Delhi:
Protests against the life sentence for doctor-activist Dr Binayak Sen for sedition are expected to culminate on Mahatma Gandhi's death anniversary. Human Rights activists, civil society members, and legal luminaries are condemning the move to link him to banned Maoist activity.
Activists have taken to the streets and even petitioned the President for Sen's release. An online signature campaign has already attracted almost 2000 followers in 40 hours. Today, protests have been organised in the Capital as well against his life sentence.
"We are hoping more Indians will come out on the street. We have set up a tentative date of January 30, death anniversary of Mahatma Gandhi, who is the most famous Indian to have faced sedition charges in India, put by the British government and we are calling for a repeal of the sedition charges act," says activist Satya Sivaraman.
Amnesty International has condemned Sen's sentence calling it an unfair trial.
Both activists and lawyers question the evidence based on which Sen was convicted.
Human Rights Lawyer Vrinda Grover says, "The court has brought in ideological reasoning in the judgement, commenting on what is happening and what he thinks of Maoist violence. This is a criminal trial, do you have evidence to convict x or not, that is the standard to be used. The court seems to have been influenced by the shrill anti-Maoist testimonies that the police were producing."
Sen's lawyers will appeal against the sentence and his wife says she's prepared for the legal battle ahead.