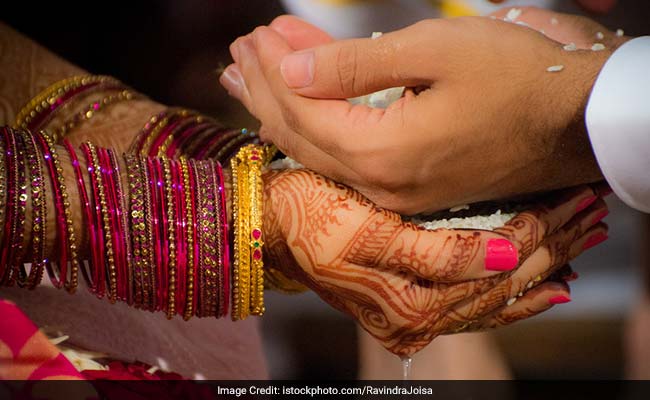 Bhilwara (Rajasthan):
On his wedding day, a Dalit man made the 'mistake' of riding a horse at a village in Rajasthan. His celebratory act soon got him into trouble after some villagers, apparently angered by what they assumed to be a hijack of privilege meant only for them, forced him to get off the horse.
Then they beat him up, the groom alleged on Sunday.
The groom said his family members who had been following him as he left their house could do little to stop the "upper caste" people from pulling him down from the horse at Govardhanpura village in Rajasthan's Bhilwara district, 250 kilometres from Jaipur.
The police said they tried to stop the villagers from thrashing the man, but the sheer number of people who ganged up against the groom overran them. The mob forced the groom to return home.
A case has been filed and seven people have been arrested, the police said.
Incidents of upper caste people stopping Dalits from taking out a grand procession on their wedding have been reported mostly from the northern parts of the country. In March, a Dalit man was killed in Gujarat's Bhavnagar district by some higher caste people for keeping and riding a horse, the police had said.
In early April, a
Dalit man locked in a fight
with upper caste Thakurs and the district administration in Uttar Pradesh's Kasganj to go to his wedding venue in a baraat or grand procession, had finally got his way.
The district administration, which had earlier refused to let law student Sanjay Jatav reach the venue in a procession, eventually changed its mind.
At a meeting of the two sides, the Kasganj administration played mediator and convinced the Thakurs to let the groom's procession pass by their homes. The route that the procession would take was negotiated and sealed.
Many Dalit grooms, however, are not as lucky as Mr Jatav.
In November last year, another Dalit groom and his family members who were on their way to the wedding venue at a Punjab village was
allegedly beaten up
by some people, who accused them of blocking a street. The groom was a Border Security Force jawan.