New Delhi:
Highlights
India-Afghanistan launched new air cargo corridor
Allows them to bypass Pakistan for trade
China says India trying to compete with its huge economic corridor
A new air cargo corridor that allows
India and Afghanistan to trade goods while bypassing Pakistan
has been attacked by the media in China, which is a long-term ally of Islamabad.
A leading Chinese newspaper, Global Times, which is state-run, described the air corridor, which opened last week, as an attempt by India to counter China's ambitious $54 billion economic corridor that runs through Pakistan-Occupied Kashmir. The air corridor, the newspaper said, exhibits India's "stubborn geopolitical thinking."
The air freight corridor is designed to boost bilateral trade and give landlocked Afghanistan more access to the huge India market. So far, Pakistan has imposed strict limits on the shipment of goods by land between India and Afghanistan.
India has objected to China's "Belt and Road" project, a massive initiative to open land and sea corridors linking China with the rest of Asia, because a key part of the construction of road and rail networks runs through Pakistan-Occupied Kashmir. In a huge snub to China, India did not attend a summit in Beijing earlier this month that saw 60 countries including the US attending the session on President Xi Jinping's signature project.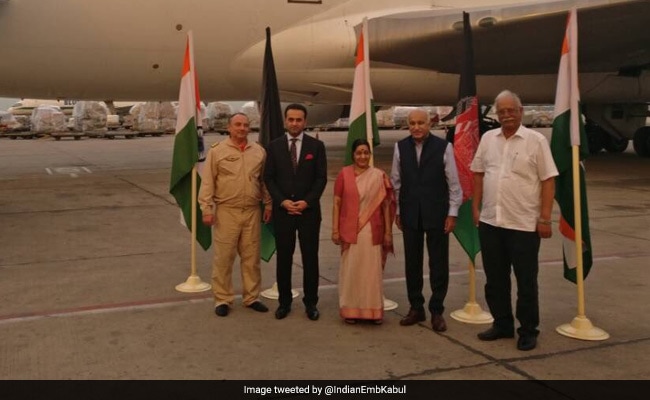 The government said the China-Pakistan Economic Corridor (CPEC) violates India's territorial sovereignty. "No country compromises with its sovereignty for the sake of trade and commerce interests," said Ram Madhav, a top leader of the ruling BJP.
The Global Times said, "No matter how India is thinking, if the country really wants to participate more in regional economic development, it should not bypass Pakistan, which offers the most efficient and cost-effective land route," it said.
It also advised, "In this sense, the Belt and Road Initiative has actually created the opportunity and platform for co-operation between India and Pakistan, and now we will see if India can eventually seize the opportunity."
India is also working with Afghanistan and Iran for the development of the Chabahar port, which, again, would allow it to open a transport corridor to the resource-rich countries of Central Asia that bypasses Pakistan. Located in Iran, the Chabahar port lies barely 60 miles from Gwadar port in Pakistan which is being developed by China.
India committed $500 million to speed development of the port after sanctions on Iran were lifted following a deal struck between major powers and Tehran to curb its nuclear program in 2015.
Get Breaking news, live coverage, and Latest News from India and around the world on NDTV.com. Catch all the Live TV action on NDTV 24x7 and NDTV India. Like us on Facebook or follow us on Twitter and Instagram for latest news and live news updates.