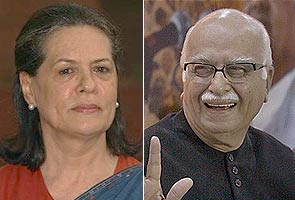 New Delhi:
Senior BJP leader L K Advani has expressed regret to Congress President Sonia Gandhi for a party appointed task force report, which had alleged that she and her late husband Rajiv had accounts in Swiss banks.
LK Advani had at several public meetings asked Sonia Gandhi to come clean on foreign accounts. But Sonia Gandhi wrote back to him, on the 15th of February and said neither she nor her family had any foreign accounts.
Advani promptly dispatched a regret letter - perhaps a rare instance of political nicety. Publicly, the party is defending Mr Advani's move.
"She (Sonia Gandhi) should have denied the reports earlier, since names of her family members appeared so many times in various reports," said BJP spokesperson Ravi Shankar Prasad.
But, sources within the BJP have told NDTV that a large section of the party is unhappy because right from the beginning several senior leaders, including Sushma Swaraj and Arun Jaitley, were opposed to attacking the Gandhi family on the black money issue. The worry in the BJP now is how the party is going to continue its protest on the issue.
NDTV has also learnt that several leaders are now saying the black money report was a party document and Advani shouldn't have discussed Sonia's letter with party leaders.
BJP had appointed the task force on unravelling the amount of black money stashed by Indians in foreign banks and ways to bring it back.
The four-member task force comprising S Gurumurthy, former IB director Ajit Doval, Professor R Vadiyanathan and advocate Mahesh Jethmalani has put the figure of money stashed in safe havens to be Rs 25 lakh crore.
On February 1, NDA leaders had released a booklet 'Indian Black Money Abroad in Secret Banks and Tax Havens', the second report of the task force appointed by the BJP. The report said that Sonia Gandhi and former Prime Minister Rajiv Gandhi were among Indians who held Swiss bank accounts.