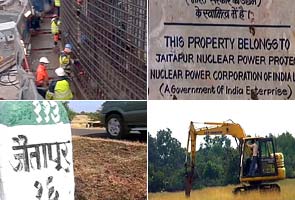 Mumbai:
There is turbulence ahead of the meeting called by Maharashtra Chief Minister Prithviraj Chavan to clear misconceptions about the Jaitapur nuclear power project.
(Read: Environment ministry defends Jaitapur project)
Key groups opposing the project who were called to the meeting have decided to boycott it.
They say their objections to the project are valid and cannot be dismissed as misconceptions. They also said that such a discussion cannot take place when the state has cracked down on local protests and arrested activists.
The 10,000 MW nuclear power park - set to be the largest in the world - has been given conditional clearance by the union environment ministry. It will be located in the ecologically sensitive Konkan area.
(Read: Jaitapur power plant gets environmental clearance)

It will be spread across over 900 hectare, a mini-township in itself in the Western Ghats, an ecologically sensitive zone.
The area is known for its rich biodiversity. And it will affect an estimated 2300 people from five villages.
"Environmentalists are against coal as it causes global warming, against hydro as it submerges and against nuclear as well. India has a population of 1.2 billion. It is the height of foolish romance that India can meet its energy needs from solar and bioenergy," said the Environment Minister.
The government says it will generate clean energy, but activists say the energy will be expensive and the radioactivity generated will be a hazard.
Get Breaking news, live coverage, and Latest News from India and around the world on NDTV.com. Catch all the Live TV action on NDTV 24x7 and NDTV India. Like us on Facebook or follow us on Twitter and Instagram for latest news and live news updates.