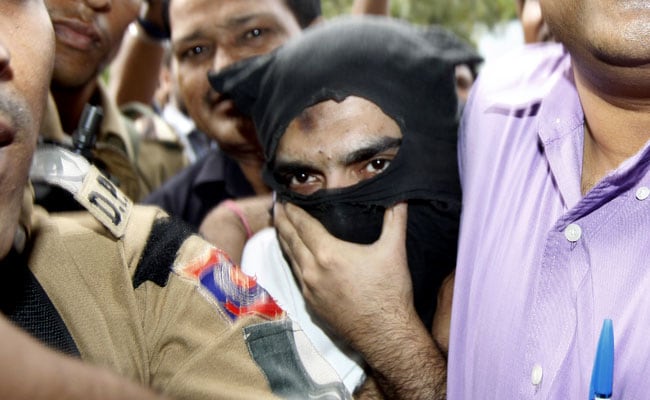 Mumbai:
A Special MCOCA Court on Tuesday sentenced Lashkar-e-Taiba operative and 26/11 Mumbai terror attack plotter Sayed Zabiuddin Ansari alias Abu Jundal and six others to life imprisonment till death in the 2006 Aurangabad arms haul case.
Two others have been sentenced to life imprisonment and three others were awarded eight years jail term. All those convicted were fined Rs.20,000 each.
The Special MCOCA Judge, S.L. Anekar, who had found the 12 accused guilty on July 28, announced the punishment on Tuesday in a packed courtroom.
The seven sentenced on Friday to undergo life imprisonment till death are Abu Jundal, Mohammed Amir Shakil Ahmed, Bilal Ahmed Abdul Razaq, Sayyed Akif S. Jafruddin, Afroz Khan Shahid Pathan, Faisal Ataur-Rehman Shaikh and M. Aslam Kashmiri.
Two other convicts - M. Muzafar Mohammed Tanveer and medico M. Sharif Shabbir Ahmed - have been sentenced to serve 14 years in jail.
Three other convicts have been slapped with eight-year sentences: Afzal K. Nabi Khan, Mushtaq Ahmed M. Isaf Shaikh, Javed A. Abdul Majid.
Of the convicts, Faisal Ataur-Rehmah Shaikh had earlier been sentenced to death in the July 11, 2006 Mumbai serial blasts in suburban trains case.
Of the total 22 accused, eight were acquitted on various grounds including lack of evidence: Mohammed Juber Sayyed Anwar, Abdul Azim Abdul Jalil, Riyaz Ahmed M. Ramzan, Khatib Imran Akil Ahmed, Vikar Ahmed Nisar Shaikh, Abdul Samad Shamsher Khan, Mohammed Akil Ismail Momin and Firoz Tajuddin Deshmukh.
However, the stringent charges under Maharashtra Control of Organised Crime Act (MCOCA) were dropped against all the accused and they have been punished under various sections of Indian Penal Code, Unlawful Activities Prevention) Act, Explosives Act and Arms Act.