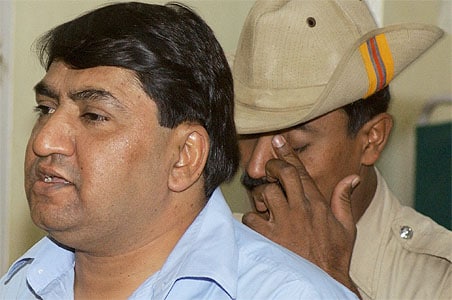 Bengaluru:
Abdul Karim Telgi, a convict in the counterfeit stamp paper scam, is on ventilator and is suffering from meningitis, according to his lawyer.
"He is alive, but very critical and has been admitted to Victoria hospital. He is in the ICU and on ventilator. He is suffering from menigitis," Telgi's lawyer MT Nanaiah said here today.
Telgi was admitted four days back, he added.
"He should have been admitted a little bit earlier. There has been a delay," he said.
Meningitis is an acute inflammation of the protective membranes covering the brain and spinal cord, known collectively as the meninges.
Telgi was arrested in Ajmer in November 2001 and has been suffering from diabetes and hypertension for over 20 years, besides other ailments, including AIDS.
He was serving his term in Parappana Agrahara Central Jail in Bengaluru after being sentenced to 30 years of rigorous imprisonment in multi-crore fake stamp paper racket.
A whopping fine of Rs 202 crore was also imposed on him.
Recently, Telgi was in thick of controversy when former DIG (Prisons) D Roopa alleged that prison authorities were giving him preferential treatment in the prison.