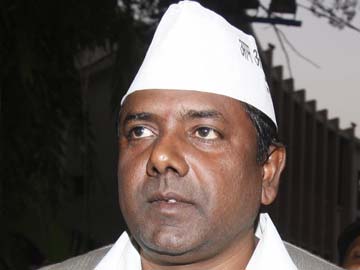 New Delhi:
The Aam Aadmi Party (AAP) on Wednesday found itself in an embarrassing public confrontation with its MLA, Vinod Kumar Binny, who has called
Arvind Kejriwal
a "liar" and threatened to expose the "truth" about the party at a press conference today.
Mr Kejriwal charged the lawmaker with angling for a ticket to contest the national election, due by May. "First he came for a ministerial post, we refused. Then he came for a Lok Sabha seat. We have decided that no MLA will contest the Lok Sabha polls. If anyone wants to leave the party, they can," he said of Mr Binny, who had stopped short of an open revolt when he was left out of the Delhi AAP cabinet in December.
Mr Binny, a former Congressman, vehemently denied it. "It is the biggest lie if he has said that I went and spoke to him about a Lok Sabha seat or elections or an election ticket," he said. The 39-year-old MLA has accused the party of deviating from its promises to people and the principles it was founded on.
This is the first open dissent within the ranks of the one-year-old party that came to power in Delhi last month on a wave of public support for its pledge to provide clean, corruption-free politics.
The party on Wednesday made it clear that Mr Binny, feted as a giant-killer after he defeated Congress heavyweight Ashok Walia in the polls, was wearing out his welcome.
Last month, Mr Binny had stormed out of a meeting in which the AAP decided its members for the cabinet, but he was reportedly talked out of escalating the crisis. (
Vinod Binny denies rift with party over cabinet post
)
After a late night meeting with AAP's Kumar Vishwas and Sanjay Singh, he denied being upset and said he was willing to serve the party in any capacity. But AAP leaders say his latest tantrum is a sign that he never stopped sulking.