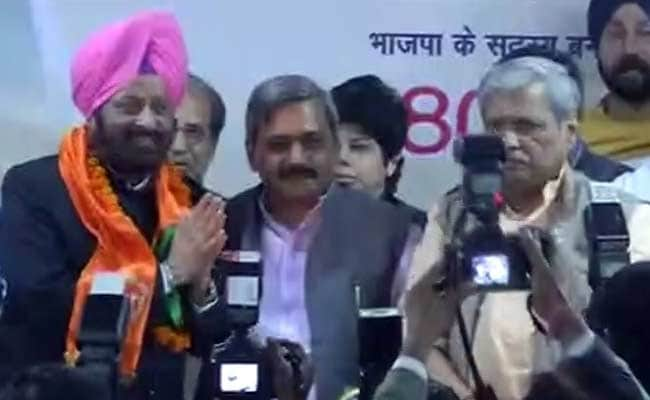 New Delhi:
Months ahead of the Delhi assembly polls, Aam Aadmi Party legislator Maninder Singh Dhir has joined the BJP saying Arvind Kejriwal does not deserve a second chance to rule Delhi. Mr Dhir was Delhi Assembly Speaker.
"It is homecoming for me," said Mr Dhir, who had earlier quit the BJP to join AAP. He said he would urge more to join him in following Prime Minister Narendra Modi's development vision.
Mr Dhir derided his former party chief saying "no one can trust Arvind Kejriwal anymore" after his abrupt resignation in February within 49 days of taking office. "They got one chance to form a government but got emotional and resigned. (Mr Kejriwal) is asking for a second chance. What if he runs away again?" he questioned.
Mr Kejriwal took over as chief minister last December after his party's outstanding performance in the Delhi polls but resigned in February in a sudden move that many in his party said was rash and unconsidered. Recently, he told NDTV, "I will never resign again, I have learnt my lesson."
Mr Dhir, however, said the mistake "could not be forgotten."
Signs of his rebellion were apparent when earlier this month he praised PM Modi effusively and called him a great leader unlike any the nation had seen.
Mr Kejriwal's party downplayed the Mr Dhir's criticism and exit, alleging that he walked out because he knew that AAP would not field him as a candidate in the election due early next year.
"We called him and informed him his performance is not good and there is bleak possibility of him getting a ticket," AAP leader Ashutosh said.
Mr Dhir said he was ready to contest again if the BJP gave him a chance.
AAP has been wracked by dissent since its abysmal debut in the May national election, in which it won only four seats.
Shazia Ilmi, one of the most prominent faces of the party, quit AAP in May, arguing that there was "a lack of inner democracy in a party that continuously talks about Swaraj (self-rule)."
Another MLA, Vinod Binny, was expelled in January after he publicly criticized the party leadership.