New Delhi:
Left leader Kanhaiya Kumar took a sarcastic swipe at the Delhi government on Friday evening, hours after the ruling Aam Aadmi Party in the national capital permitted his prosecution in a long-pending sedition case. Taking to Twitter, Mr Kumar said "thank you" and asked his trial to be fast-tracked "in a court of law, rather than one on television".
The former Jawaharlal Nehru University student is accused of leading a procession that allegedly chanted anti-national slogans during an on-campus event in February 2016.
"Thank you to the Delhi government for granting permission for a sedition case. Police and government officials are urged to take this case seriously (and have a) speedy trial in a fast-track court to ensure justice in a court of law instead of a trial on television," he posted in Hindi, adding, "Satyameva Jayate".
Alleging that the sedition law had been wrongfully used in India for "political gains and to divert people from issues that affected them", Mr Kumar also said his speedy trial would help reveal such problems.
Concerns over misuse of sedition law were flagged by the Law Commission in a consultation paper in 2018, which said criticism of the country could not amount to sedition. It was pointed out that the United Kingdom, which originally introduced the section, had itself abolished such "draconian" laws
Permission to prosecute Mr Kumar over anti-national slogans was given after the Special Cell of Delhi Police wrote to Chief Minister Arvind Kejriwal's government last week requesting expedition.
That letter came hours after a court directed cops to send a reminder to the ruling AAP. The application had been pending since January 14, 2019.
AAP MLA and spokesperson Raghav Chadha called the decision a "purely a procedural matter" and said his government would not, "as a matter of principle" intervene in any such case.
Delhi BJP chief Manoj Tiwari welcomed the decision and also took a swipe at Mr Kejriwal.
"Keeping current political situation in mind, Chief Minister Kejriwal has finally given sanction prosecute Kanhaiya Kumar. We welcome the decision. We have been demanding (this)... let the law take its own course," Mr Tiwari said.
Manoj Tiwari led the BJP's unsuccessful attempt to unseat the AAP in Delhi Assembly election on the back of a vitriolic campaign that called anti-citizenship law protesters "anti-national" and accused the party of shielding the likes of ''Kanhaiya Kumar, Umar Khalid, and other anti-India forces''.
A 1,200-page chargesheet, filed over a year ago, names Kanhaiya Kumar and nine others, including two more former JNU students in Umar Khalid and Anirban Bhattacharya. It alleges they led a procession on the anniversary of the hanging of Parliament attack mastermind Azfal Guru and supported the chanting of seditious slogans during the event.
However, the court refused the chargesheet, asking police to take requisite sanction before going ahead. At that time the court directed the cops to get sanction by February 6, 2019.
On failure to do so, the court observed: "Authorities can't sit on file for indefinite period". The request for sanction has been pending since.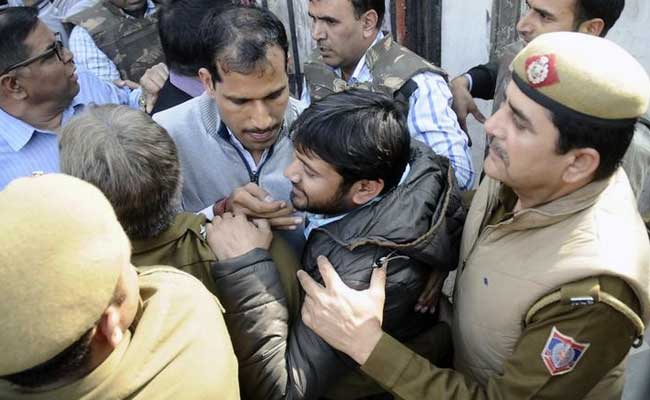 After the court's reminder last week Chief Minister Kejriwal said he would ask the state home department, headed by AAP's Satyender Jain, for an early decision in the matter.
A chargesheet in a sedition case requires permission from the state government. In this case, Delhi Police reports to the Union Home Ministry in the BJP-led government at the centre, which is a fierce critic of the AAP that is in power in the national capital.
Mr Kumar was arrested in connection with the sedition case on February 12, 2016. He was given bail the following month.
Kanhaiya Kumar, who has emerged as a fierce critic of the ruling BJP and Prime Minister Narendra Modi, made his electoral debut in last year's Lok Sabha election. He contested from Bihar's Begusarai seat on a Communist Party of India (CPI) ticket but lost to the BJP's Giriraj Singh by over 4 lakh votes.
With input from PTI, ANI