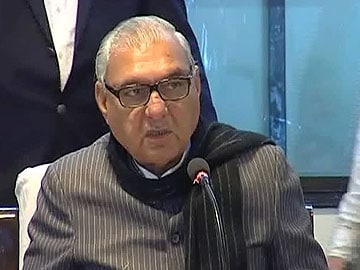 Chandigarh:
Taking a cue from
Arvind Kejriwal
's Aam Aadmi Party government in Delhi, Bhupinder Singh Hooda, chief minister of neighbouring Haryana, today drastically reduced power tariff across the board in his state.
In a move that is expected to help 38 lakh domestic consumers and 5.50 lakh farmers from the state, Mr Hooda gave a relaxation of Rs 1.30 per unit to domestic consumers who use up to a thousand units every two months. The tariff per unit for farmers was reduced from 25 paise to 10 paise. The changes will come into effect from January 1.
The reduction in power tariff is a major pre-poll sop announced by the Hooda government. The state goes to polls later this year, and the Congress government, which is battling anti-incumbency disadvantage, charges of corruption in land deals, challenges from Om Prakash Chautala's Indian National Lok Dal and the fledgling AAP, clearly hopes that this will have a positive impact on its fortunes. The BJP-Haryana Janhit Congress of Kuldeep Bishnoi forms the third pole.
The AAP, which has vowed to rid Haryana of corruption, has already declared noted psephologist-turned-politician Yogendra Yadav as its chief ministerial candidate. The party has decided to field candidates from all 90 constituencies.
Soon after taking power in Delhi, Mr Kejriwal had cut power tariff by 50% in an attempt to redeem a pre-poll promise. The Haryana government has clearly been influenced by the Delhi experiment.