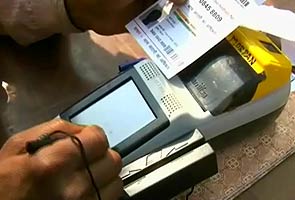 New Delhi:
The government on Friday set a January 1, 2013 deadline for kick starting its ambitious scheme of directly transferring cash to beneficiaries of welfare schemes and subsidiaries, a project announced by Prime Minister Manmohan Singh over a month ago, in 51 districts across the country.
The decision was taken at a meeting of the executive committee on direct cash transfers chaired by prime minister's Principal Secretary Pulok Chatterji in New Delhi.
Under the plan approved for roll out, the scheme will cover the 18 states and union territories in the country by April 2013 and it will be extended to another 16 states and union territories by April 2014, according to a release from the prime minister's office (PMO).
The prime minister will chair the first national committee meeting on November 26 where the roadmap and timelines will be presented.
The executive committee meeting was attended by secretaries and representatives of departments of financial services, unique identity authority (Aadhaar), information technology, planning commission, expenditure, posts, rural development.
Representatives of social justice and empowerment, tribal affairs, minority affairs, higher education, school education, health and family welfare, women and child development, labour and employment, petroleum and natural gas, fertilizers, and food and public distribution were also present during the meet.
"The purpose of the meeting was to move forward and operationalise direct cash transfers for which many steps need to be taken," the release said.
"The necessary steps include identification of areas where direct cash transfers can be introduced, establishing mechanisms for preparing roll out plans for these areas, ensuring rapid roll out of Aadhaar to achieve better coverage (at least 80 percent).
"Ensuring universal access to banking and financial inclusion and setting up mechanisms to enable cash transfers to actually take place," it said.
"To facilitate all this, there is a need to constitute other committees including a technology committee, a financial inclusion committee and implementation committees within each ministry so as to ensure coordination and quick implementation," it added.
The list of schemes, roadmaps, and timelines will be sent to the planning commission and PMO within 10 days, by November 20.
Aadhaar will set up a dedicated cell of technical experts in authority to facilitate the direct cash transfers and help individual ministries. It will also roll out its identity cards speedily in line with the roadmap.
Department of financial services will go for universal financial inclusion through individual bank accounts for all in line with the roadmap.
All other departments will work towards digitising their databases quickly, particularly at the state level with the help of state governments, information technology department and National Informatics Centre to ensure convergence.