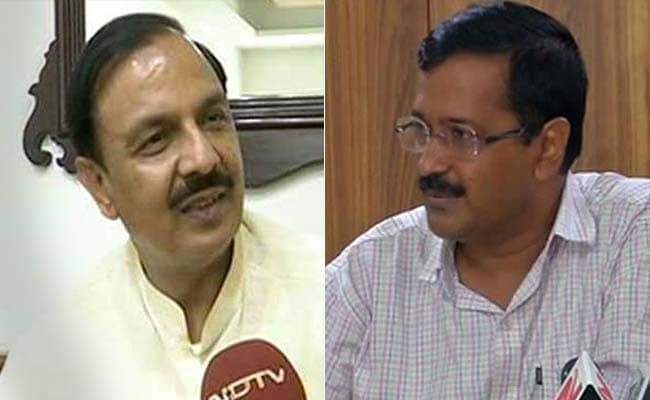 Highlights
Kejriwal asks how Mahesh Sharma is coping with wedding amid notes ban
Kejriwal tweets: 'Are you spending 2.5 lakh on daughter's wedding?'
Mahesh Sharma retorts, get your facts right, 'it's my son's wedding'.
New Delhi:
A wedding in union minister Mahesh Sharma's family has seized the attention of Arvind Kejriwal, who tweeted today questioning how he is paying for it after the currency ban and restrictions on cash.
Get your facts right first, Mr Sharma tersely told the Delhi Chief Minister.
On Monday morning, Mr Kejriwal tweeted in Hindi: "BJP MP Mahesh Sharma's daughter is getting married. Is the entire payment in cheque? Has he kept the wedding spending within 2.5 lakh rupees? How did he exchange his notes?"
Mr Sharma, the Minister of State for Culture, responded shortly: "First get your facts correct. It is my son's wedding. Yes, the entire payment is being made through the bank."
Mr Kejriwal and his Aam Aadmi Party (AAP) are among the most vociferous critics of Prime Minister Narendra Modi's shock decision to ban Rs 500 and 1,000 currency notes, which formed over 85 per cent of the cash in circulation.
Confronting daily opposition attacks, PM Modi on Sunday gave a shout-out during his Mann Ki Baat radio talk to what he called a "chai-paani wala wedding" in which a couple in Gujarat spent only Rs 500 on their wedding - for tea served to guests.
In a series of measures announced to ease the difficulties of people spending hours at banks and ATMs to withdraw or exchange cash, the government recently allowed families organising weddings to
make a one-time withdrawal of 2.5 lakh rupees
.
The BJP has also faced questions in parliament over the outrageously extravagant wedding of Karnataka politician and mining tycoon G Janardhan Reddy's daughter,
which is now being investigated by taxmen
. Mr Reddy was a minister in the BJP government led by BS Yeddyurappa until 2011; he spent three years in jail in illegal mining cases and was let off on bail last year.