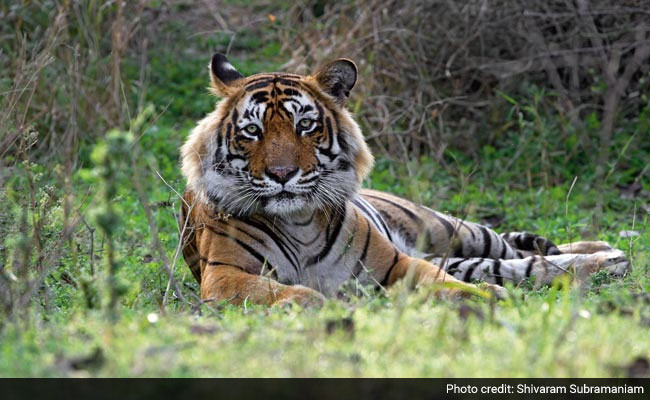 Rajasthan:
In 19 years of reporting on tigers, I have never seen the kind of mass mobilization of people for a tiger like the case of Ustad. Who is Ustad? or T24? Well, now I have to yank you out of your ignorance and no longer shall you know bliss, like those of us on any side of this twisted debate. T24 is a nine-year-old dominant male tiger in the Ranthambore Tiger Reserve. On May 8, he was held responsible for the killing of a forest guard named Rampal Saini. In 2012, he had killed another guard and was also held responsible for the deaths of two other people who ventured into his territory.
The divide in the debate is razor-sharp. Several biologists and conservationists are of the opinion that it is indeed T24 who is responsible for all four deaths, while others say he killed one. The Forest Department tranquilized and removed T24 from his territory a week after Rampal Saini's death. He was transported 400 km away to a biological park in Udaipur. The Chief Wildlife Warden of the Ranthambore park, R K Tyagi, has stated he had no choice as local villagers were angry and scared after first three deaths and Rampal Saini's death made the guards who patrol the reserve, especially the ones who monitored T24's territory, nervous and upset. The law allows for the Chief Wildlife Warden to take a decision on a "problem animal". Sahoo also stated that he had informed the National Tiger Conservation Authority or the NTCA of the relocation.
The public protests have been fierce. Ustad was a much-photographed beautiful male, who for years enthralled tourists with his swagger. This led to a massive fan following which has now resulted in sheer outrage on his behalf. Social media has spent the last week flooded with # jesuisustad, # boycottRTR and # BringUstadBack. Facebook has seen vicious arguments on both sides of the debate which has too often degenerated into name-calling and wild accusations. Over the last few days, there have been dozens of candlelight marches, demonstrations and petitions filed and signed in support of Ustad. It's become so big that people in the United Arab Emirates, the United States and Australia who probably have never seen or heard of Ustad earlier have jumped in with support. For Ustad's mass following, the demand is simple -bring him back to his home territory, releasing him from captivity. Apart from the Indian media, the BBC, The Daily Mail and Al Jazeera have carried this story.
Ustad's is not the case of a typical man eater. The deaths attributed to him have been spread out over a five-year period, with all kills occurring in his territory. In other words, he has not gone out seeking people to kill. The first two bodies were partially consumed, which can often just be cat behavior not amounting to man-eating even per NTCA guidelines. Ustad's territory spans the most crowded road in RTR, the road taken by thousands of people almost daily to the nearby fort and Ganesh temple. Some conservationists have asked why none of those people have been killed if Ustad is as dangerous as he is being made out to be.
Bina Kak, the former Environment Minister of Rajasthan stands firmly in Ustad's corner, even posting pictures of the tiger walking calmly close to a group of women carrying water seemingly without even acknowledging them. Is that the picture of a man eater, she asks. Dharmendar Khandal, a wildlife biologist and member of an NGO Tiger Watch, has been studying the tigers and ecology of Ranthambore for years while working with local people to promote a better understanding of tigers. He is hugely responsible for helping to reduce poaching in Ranthambore and insists Ustad is dangerous. Khandal reached the scene after the attack on Rampal Saini and says he observed Ustad licking the blood on the ground. When the jeep he was in braked hard and he fell out, Ustad stalked towards him, then chased the jeep for a short distance. Valmik Thapar, renowned tiger expert, has also stated that Ustad is the most dangerous tiger he has ever seen. Raj Kumar Rinwa, the Forest Minister of Rajasthan has asked for an enquiry into why the tiger was removed. Even Bishen Singh Bhonal, the new head of the NTCA, has questioned the move.
All these contradictory statements, followed by unsubstantiated rumors of "vested interests tied to a strong hotel lobby" have further muddled the debate. The hoteliers, many of whom have seen Ustad flourish since he was a cub, dismiss the accusations as "nonsense", insisting that Ustad was actually great for business. Also, since Ustad never chased or hurt people in vehicles, he posed no threat to tourists.
What has been especially problematic is the lack of transparency in the making of the decision that moved Ustad.
While the Forest Department says they have irrefutable evidence of Ustad's dangerous and changing behavior, nothing has been made public. This may not be mandatory, but in this case it seems a miscalculated move with such a high-profile tiger, growing tourism, the attention of social media. Many stories are already out there. Most of them negative and not in favour of the department. There could have been damage control if the whole matter had been handled differently from the outset. Some questions have been valid, from doubts over whether NTCA guidelines were followed to why Ustad was not radio-collared and monitored after the killing of a guard in 2012.
What is irrefutable however is that it is the forest guards who deal with tigers daily on a day to day basis. Rampal Saini had manned the chowki on the road to the Ganesh temple for 27 years. In that time, he had seen and been around many tigers, so it's highly unlikely that he is unaware of how to behave around wild tigers.
Local villagers too deal with tigers almost every other day. Tigers are on their roads, in their villages, chase their cattle and occasionally come directly into conflict with them. Without either local support or the hard and brave work of forest guards, tigers just will not survive in this country. Contrary to personal beliefs, they will however get along very well without the rest of us. It also has to be accepted that by removing Ustad, the Forest Department and experts are not showing hatred but as much love as the people fighting for the tiger. They do not want local anger and fear turning into violence and hatred. They do not want poisoned water holes and forests on fire. For the first time, guards have categorically refused to patrol the area, and have demanded action. It is to be acknowledged that Ustad was a tiger who suffered all his life from constipation, which is a life-threatening condition in a big cat. Left up to nature, he should have succumbed a long time ago. But the Forest Department repeatedly intervened and saved him. The only way to know if a wild tiger is constipated or sick when it's not an obvious wound is through close observation, so imagine the care and concern that has been given for years.
Our forest guards do the toughest jobs in difficult conditions with very little support. It will be monsoon soon. The park will shut. The roads will turn into mud gravy and the rain will be relentless, and yet these men will walk the park looking out for the tigers. Unless we walk a mile in those muddy shoes we will never know what it means.
Ranthambhore has bounced back from an abysmal run from 2004 to 2007 when poaching was at an all-time high. Today with added protection and concern, there are 21 females and 22 adult male tigers with an assortment of 12 to 15 cubs, well beyond the parks carrying capacity. Forests around Ranthambore are degraded. The entire park is practically core with no discernible buffer hindering natural tiger dispersal; the prey base outside the park is consequently low, moving tigers towards cattle and bringing them into contact with people. Tourism is also uncontrolled often with dozens of jeeps crowding the animals and many getting too close for comfort. Around India, tigers have lost over 96% of their territory to development project. These are the real threats facing our tigers today and this is what we need to be fighting with the same vigor.