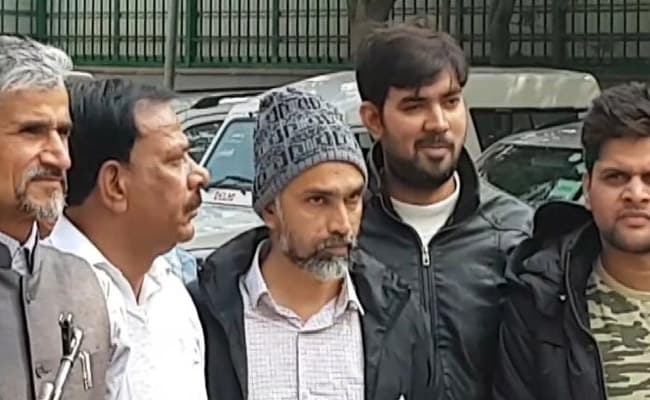 Highlights
Tauqeer, a "glib talker", with knowledge on technical issues say police
Police dossier on Tauqeer refers to him as "Phantom in SIMI/IM"
Tauqeer, key accused in Gujarat serial blasts of 2008 arrested in Delhi
New Delhi:
An engineer by profession, 45-year-old
Abdul Subhan Qureshi
also known as Tauqeer was on the most wanted list of the National Investigative Agency for the last eight years. On Monday, the man who investigators believe was the mastermind of the Gujarat serial blasts of 2008 that killed 56 people was arrested by Delhi Police.
Investigators who questioned Tauqeer for last 24 hours say he is "glib talker". The Deputy Commissioner of Police, Special Cell, PS Khushwah told NDTV, "Qureshi has good command over English language; he also knows a lot on issues of the minority community". "He has lot of knowledge on technical issues, in fact he had worked with IT firms in Hyderabad and Bengaluru," Joint Commissioner of Police, Special Cell, MM Oberoi told NDTV.
Tracing The Tauqeer Dossiers
Several state police departments have prepared dossiers on Tauqeer, often referred by investigators as India's Osama bin Laden. One of the dossiers described him as a "Phantom in SIMI/IM". A senior police officer disclosed, "Lot of information was available on him but he used to vanish from the crime spot and that is why he came to be known as phantom".
Mumbai Dossier
Tauqeer went to the Christian Missionary School, Byculla. As a teenager he was an avid reader; he used to visit the Muslim Charitable Library and read on religious issues.
In 1995, Tauqeer completed his diploma in Industrial Electronics from Bhartiya Vidyapeeth. He also did a Microsoft Certified Software Engineering course.
After completing his education he started working as a Customer Support Engineer in Mumbai. During this time Tauqeer started attending events of Students' Islamic Movement of India or SIMI in Kurla, and came in contact with Riyaz Bhatkal of the Indian Mujahideen or IM.
The Delhi Dossier
Tauqeer left his well-paid job in Mumbai and moved to Zakir Nagar in Delhi in 2000 where he met Safdar Nagori, the then chief of SIMI, which was banned in 2001. Tauqeer then shifted his base to Bijapur in Karnataka and became the leader of SIMI's Karnataka cell.
During his stay in Bijapur, Tauqeer frequently visited Riyaz and Iqbal Bhatkal of the IM and later became the co-founder of IM. "Being a good speaker, he was the main bridge between the old cadre of SIMI and the newly founded IM," explains a senior officer.
Tauqeer was a recruiter and trainer of SIMI terrorists at Choral in Indore in November 2007, at Wagamon in Kerala in December 2007 and at Halol in Gujarat in January 2008. At these camps, Taqueer trained new recruits in jihad against India. From mountaineering to map reading, pistol firing, bomb making, misleading investigators if arrested were taught.
Gujarat Dossier
In 2008, after the arrest of SIMI chief Safdar Nagori, Tauqeer became the head of the group and started planning serial blasts in Gujarat, say senior officers.
Tauqeer along with other IM terrorists carried out the blasts on July 26, 2008. 23 bombs rocked Ahmadabad and a total of 20 cases were registered in different police stations. Police defused 29 explosives devices from different parts of Surat between July 27 and August 3, 2008. The devises which did not explode were planted by the Indian Mujahideen terrorists say police.
Bihar Dossier
Soon after the Gujarat blasts, Tauqeer fled to Ranchi and took shelter in a SIMI activist's home. From Ranchi he went to Chappra and Raxaul before escaping to Nepal. In Nepal, Tauqeer stayed till 2015 with a fake identity card from a local SIMI man identified as Nizam Khan. He got a Nepali passport (Abdul Rehman s/o Abdul Karim r/o Birat Nagar, Nepal) and sometime in February or March 2015, he moved to Saudi Arabia.
The Encounter And Arrest In Delhi
Tauqeer again met Riyaz Bhatkal in Saudi Arabia who asked him to go to Riyadh to arrange funds for reviving IM in India. In Riyadh, Tauqeer worked as a salesman in stores and collaborated with SIMI and IM sympathizers. Tauqeer returned to India from Saudi Arabia in June 2017. Deputy Commissioner of Police, Special Cell, Mr Khushwah said, "We got information that Tauqeer was coming to meet his old friends in SIMI and this time we managed to catch him."