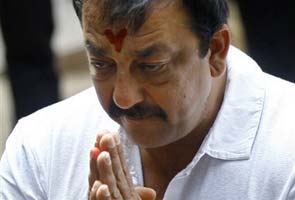 New Delhi:
The Supreme Court has rejected the appeal of Zaibunissa Kazi, who is 70, and had asked for some more time before being imprisoned for her role in the 1993 serial blasts in Mumbai.
The verdict could impact actor
Sanjay Dutt
, who was convicted for illegally possessing an AK-56 supplied by men convicted for the terror attack. The court had ordered him to return to jail by April 18. Yesterday, Mr Dutt asked for another six months so that he could finish shooting Bollywood films. The court will hear his plea tomorrow.
Those whose petitions were rejected today - two convicts in addition to Zaibunnisa had said that they are too old and sick to handle a jail sentence and that their petitions for pardon are pending with the President of the country.
Mr Dutt, who is 53, was given a five-year sentence by the Supreme Court last month, but because he has already spent 18 months in prison before being granted bail in 1995, he will spend a little over three years in jail.
At an emotional press conference last month, Mr Dutt said he would accept the verdict and surrender to prison authorities before his deadline.(
Watch
)
He was found guilty by the Supreme Court of possession of an automatic rifle and a pistol, which he insisted were only meant to protect his family. The serial bombings in Mumbai in 1993 killed more than 200 people and nearly 700 were injured.