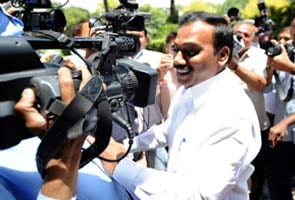 New Delhi:
Former telecom minister, A Raja, was in Parliament today, less than 24 hours after he left jail. He attended the proceedings in the Lok Sabha briefly. He was seated in the last row and left the House accompanied by some members from his party, the DMK.
Mr Raja was released from Tihar Jail last evening after being granted bail in the telecom scam which he allegedly masterminded. As part of his bail conditions, he cannot visit Tamil Nadu, his home state, or his former office, the Department of Telecom, without the court's sanction. He spent 15 months in prison.
Mr Raja is accused of criminal conspiracy and breach of trust by a public servant for allegedly costing the country thousands of crores as telecom minister. The telecom scam revolves around ineligible companies being pushed to the front of a long line of applicants to receive mobile network licenses and valuable airwaves at below-market rates.
Since his return home last night, Mr Raja has been surrounded by supporters at his Delhi residence. Preparations have been made to provide meals to visitors from his home-town, Permabalur, and his constituency of Nilgiris.