New Delhi:
On 25th September at the United Nations, 193 world leaders adopted the 2030 Agenda for Sustainable Development - a series of 17 ambitious goals for people, planet, prosperity, peace and partnerships.
It is an unprecedented agenda. For the first time in UN's history, development goals will rest on all three pillars, economic, social and environmental.
Also for the first time, the goals apply universally to all countries, rich and poor.
Though the overarching goal is to eradicate poverty, the agenda addresses issues like excessive consumption and the means of implementation of goals through international cooperation.
Cynics say with 17 goals and 169 targets, the agenda will be unwieldy and unimplementable. But the critique of the length of the agenda may be misplaced as the document represents a complex political balance negotiated by 193 countries.
Analysts point out that the goals are in fact a course correction. Development is no longer seen as just delivering basic needs, but as structural transformation.
It is clearly a historic moment, an opportunity to shape the world we want. But will the sustainable development goals work in reality? Will they provide the blueprint for the world's development over the next 15 years?
The international compact is ambitious and will transform the way development is envisioned. But what is critical is the way national governments act upon it.
There's a lot of focus on India, because of its size in the development universe. India is home to more than 30 per cent of the global estimate of over one billion people who live in extreme poverty.
China, which has experienced rapid economic growth, has been able to lift large numbers of its people out of poverty.
The success of the sustainable development goals will depend greatly on India.
Underlining India's commitment, Prime Minister Narendra Modi told the UN General Assembly of the country's dream of eliminating poverty.
He said, "Much of India's development agenda is mirrored in the Sustainable Development Goals. We have placed priority on education and skill development, new bank accounts for 180 million, direct transfer of benefits to the poor, pension for everyone's sunset years. We are focussing on housing, power, water, health and sanitation for all."
Eighteen-year-old Anoyara from India is filled with hope. Trafficked and forced into domestic labour when she was 12 years old, she managed to escape. Today she is a campaigner, saving children from meeting the same fate.
Anoyara has a message for the PM. "17 goals have been set to make the world a better place for children. I request the Prime Minister to ensure these goals are implemented well. The Government allocation for children's education should be properly monitored. Also Government spending on children should increase," she said.
Anoyara belongs to the child labour endemic district of North 24 Parganas in West Bengal.
Adds Amitabh Behar, Executive Director, National Foundation For India, "In a country like India if you look at the goals and 169 targets, I would say each and every goal is relevant, each and every target is relevant. And in fact there is enough policies and programmes in the Government of India and state Governments which would correspond with it. And what we should correspond is political will."
From January 2016, member states will have to roll out the new development agenda in their country for the next 15 years. The question is will India integrate it with the existing programmes or come up with a new plan. The challenge of doing development differently is a demand coming from the Sustainable Development Goals. World Bank President Jim Yong Kim says a single state, Uttar Pradesh, accounts for eight per cent of the world's population living in extreme poverty. If Uttar Pradesh were to succeed, the world would be well on its way to achieving Goal No 1, which is to end poverty.
India needs to identify the underlying factors that have stalled development and led to inequality. At Piyawali village in Dadri, Uttar Pradesh, where nearly 50 per cent of the households are Dalits, the faultlines are visible.
Dalit residents tell us they experience untouchability in many forms. "It is because of untouchability that the priest refuses to come to our homes to perform rituals," says Raju Gautam. They also speak of the restrictions imposed on them when they take out a rally to celebrate Ambedkar Jayanti on April 14.
The Pradhan, who belongs to an upper caste, admits to the Dalits' reality of social exclusion.
At this rally in New York, activists and parliamentarians say the indicators to monitor the sustainable development goals should take into account discrimination based on work and descent.
Over 260 million people across the world face marginalization because of low status occupation, ethnicity and religion.
"In Japan they are called Buraku men. In Nepal, Sri Lanka, Pakistan, India they are of course called Scheduled Castes or Dalits. And in Africa you have groups called Osu and Oru in the tribes. They are also discriminated based on work and descent. Latin America, Brazil and other countries have similarly discriminated communities. We must include this in the indicators for goals on human rights, for addressing the issues of poverty and for addressing access to public services and for accountability, peace and justice. We must have measures with disaggregated data which will enable us to track how far development has touched these communities wherever they are."
Says Salil Shetty, Secretary General of Amnesty International, said,"Do the women, the Dalits, who are victims on daily basis, do they have a voice? Can they even go to a police station and report when there is crime? Very basic stuff. Is the criminal justice system functioning? We have a massive number of undertrials in our country and they have not come out because they can't afford bail. And you look at who these people are in the prisons. They are mostly Dalits, minorities - the same group of people."
Indicators to measure progress against each goal are still under discussion at the UN and are due to be finalised in March next year.
At the national level in India, there is worry about a data crisis. Development policies fail to be responsive in the absence of accurate information.
Bidisha Pillai, Director of Advocacy for Save the Children, said, "If you look at the whole issue of violence and protection of the children, one of the things that we struggle with is national level data. There are a few targets, not separate goals, and there is a strong chance that again it will get lost and you know not be prioritized. So you know the whole issue of urbanization, migration, the fact that child labour is growing rapidly in urban areas, whether you look at in the domestic sector or whether you look at industry. Those are things that are not captured in the goals and targets."
It is critical to develop good indicators that monitor the progress of the development agenda. Indicators that catch the reality. Indicators that can raise the level of ambition.
For instance there is good data on school enrolments but not on achievements. There is data on poverty, but not by gender or tribal groups. Poor data feeds into bad management.
TCA Anant, Chief Statistician of India and Secretary, Ministry of Statistics and Programme Implementation, said, "Considerable investment should be made in developing capacity in data collection for these goals. In fact if you look at the 17 goals and the 169 targets, for a substantial number of them the adequate data does not exist. In some data exists with the desired periodicity or the aggregation and there is no issue. In some, data exists, but with not the desired periodicity or the desired level of the disaggregation. Our additional work may be needed. There are a number of cases where data does not exist at all. The immediate task is to get a national commitment on which one of the goals and targets are part of our policy base. The one's which are already there, we are already working, since those national commitments have been announced. The statistical effort follows the policy commitment."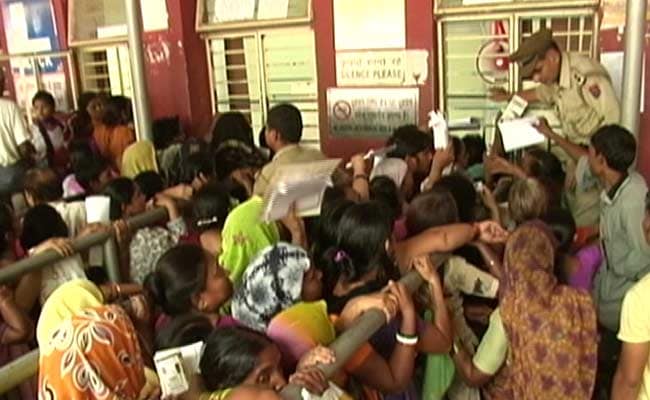 However, India's road map to implement the sustainable development goals is not clear.
Ranja Sengupta, who is senior researcher at Third World Network, said, "I think that NITI Ayog will be the nodal agency in India. I am hearing that they will follow a federal structure. There will be a lot of onus on the state Government. So it will be their responsibility to at least partially plan it and then implement it. We don't know how exactly they will work? Whether the Centre will give a central planning framework and under that the state Government will start implementing the goals and targets."
Gender equality receives special attention in the 2030 agenda. It is a standalone goal, Goal No 5, and a cross cutting theme. Gender equality is seen as a vital means of achieving this agenda for all.
Lakshmi Puri, UN Women Deputy Executive Director, said, "It also says that gender equality must be mainstreamed in all aspects of implementation of this agenda."
For the first time, an international agenda has recognised the unpaid care work carried out by women and girls. Like caring, cooking, fetching water and fuelwood. Unpaid care work is unrecognised and undervalued in policy and legislation.
The fact is it restricts women's participation in social and economic life and keeps them trapped in the cycle of poverty.
Sylvia Hordosch, Policy Adviser, UN Women, says it is a step forward. "It does talk about the importance of public services, so I am thinking of childcare services, not just early childcare but also school and health services. If there are no health services, it is often women who become the default caretaker. The target also talks about the infrastructure which means water, energy, roads and other infrastructure."
What does all this mean for India? How is it going to be translated from the global inter-government agreement to the national level?
Says Lakshmi Puri, "So let's look at what are the programs the Government of India has to translate each aspect of say Goal No 5 into real change on the ground. So you see those schemes and programmes like Beti Bachao, Beti Padhao, the Step scheme, the Swadhar scheme and all these are schemes for women education, girls' education, adolescent girls' education, skills development, access to economic assets and resources. And there is governance related empowerment. There is already a very strong village level and district level engagement of women in governance. So all of that then needs to be really pursued with a new political will & bigger investment."
Analysts express worry over the decline in the quantum of allocations for women in the Union Budget this year and the halving of allocations for the Ministry for Women and Child Development.
The cuts followed the report of the 14th Finance Commission, which increased the proportion of funds to be transferred to the states by the Centre.
There is now greater onus on the states to prioritise these issues. However, there is no transition plan. And poorer states, which have competing priorities, do not give the required focus to social sectors.
Chronic underinvestment affects legislations, institutions and programmes in achieving the goal of gender equality.
Take the case of the Protection of Women from Domestic Violence Act, enacted a decade ago.
There is limited reach of the law in the absence of adequate mechanisms and the lack of financial resources.
In the Capital we meet four survivors of violence. All are in their twenties. They were forced to leave their marital home after physical and emotional abuse.
The survivors required intensive counselling, shelter, health services and financial support. But these continue to be difficult to access.
Assistance came slowly, from collectives formed under the Awaaz Uthao, or Breaking the Silence initiative implemented by NGOs in 50 gender resource centres. Awaaz Uthao was launched by the previous Delhi Government four years ago. Three of the survivors are now receiving legal aid.
In Harsh Vihar, another part of the capital, Awaaz Uthao helped teenagers who felt unsafe when they walked to school or work.
Naazra, a student, said, "When you step out of the house you find boys standing at street corners. They make loud comments."
The group approached the local police station and found a proactive Station House Officer. A value chain of preventive law enforcement was developed. Patrolling was increased in trouble-spots. The SHO regularly organizes martial arts training for girls.
According to Madhu Sharma, a student, "The SHO is very good. Whenever we go to him, he listens to us and solves our problems."
Adds Naazra, "At first we used to fear the police, but not now."
However, the programme overall is fragmented as it lacks a mechanism for coordination between different entities like the police, courts, doctors, counsellors, and shelters. At best it is an informal attempt at damage control. It is neither comprehensive nor institutionalized.
Though there is no enforcement mechanism built into the 2030 agenda, national aspirations are growing. The Government will need to respond to them with greater ambition.
Despite the cynicism, the global agenda will be a political pressure point on national governments. A positive benchmark for the national development mission.
At New York, India made a strong demand for reforms in global governance, in institutions like the UN Security Council. Prime Minister Narendra Modi said, "Our institutions, approaches, and often mindsets reflect the vision of the century we have left behind, not the century we live in."
It resonated with aspirations at the national level. The gap between the global narrative and the local narrative is likely to be reduced.
As India pushes for a global role and a seat on the UN Security Council, the national development agenda is bound to change. It can't be business as usual, finance as usual.