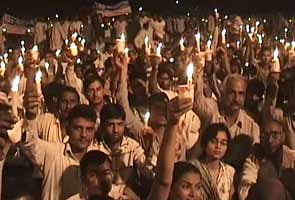 Dabra, Hisar:
On Sunday evening, a procession of villagers in Hisar moves, holding candles, towards the local police station. A group of Dalits at Dabra village in Haryana's Hisar district are fighting on behalf of one family dealt two tragedies in the last few days.
First, a teen, a Class 12 student, was gang-raped. 11 days later her father committed suicide. The attack on his daughter had been filmed on cellphone. The MMS was doing the rounds. He couldn't cope.
For five days, his dead body has been at the mortuary at a local hospital. The victim and her mother say they will not claim it till they get justice. The fact that it took his death to propel the police into registering a case of rape is a grim reflection of the treatment given to Dalits here.
The teen has told the police that of the 12 men who raped her, eight were upper-caste Jats. They all live in or near her village, she says she can identify them all, but only two men have been arrested so far.
Dabra has a population of around 6000 with 60 per cent belonging to the Jat community.
The specter of tension between the Jats and the Dalits rarely dissipates. Two years ago, a Dalit girl, differently abled, and her father were burnt alive by a mob of nearly 100 upper caste villagers in nearby Mirchpur. Dalit homes were set on fire. Worried about their safety, Dalit families fled the area. The Supreme Court then transferred the case out of Haryana to Delhi to ensure a trial that would not be influenced by political connections or local standing. In its verdict last year, 15 people were convicted, and nearly 80 were acquitted.
So far, neither the chief minister Bhupinder Singh Hooda, his son Deepinder who is an MP, or the parliamentary representative of this part of Haryana have visited the village of Dabra.
But the district police chief says the case has been filed under the Scheduled Caste and Tribe Act to ensure the trial is a swift one.