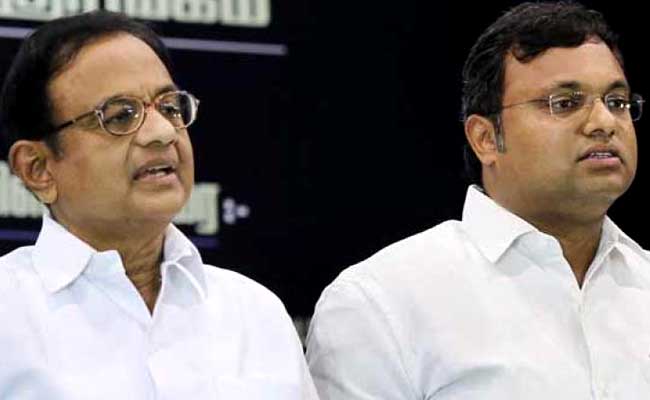 New Delhi: The CBI today raided the home of former Finance Minister P Chidambaram and his son Karti Chidambaram in Chennai as part of its investigation into suspected criminal misconduct in foreign investment approvals. The agency alleges that Karti Chidambaram facilitated the approvals when his father was minister and used his "influence in the finance ministry". An FIR or First Information Report lists criminal conspiracy, cheating, taking bribe, influencing a public servant and criminal misconduct. Mr Chidambaram and the Congress have strongly denied the allegations.
Here is a 10-point guide to CBI's allegations:
In 2007, INX Media run by former media bosses Peter and Indrani Mukerjea sought a Foreign Investment Promotion Board (FIPB) approval to raise Rs 4.62 crore from foreign companies.
The company also asked for permission to make a 26 per cent investment in INX News, saying it wanted to create, operate, manage and broadcast a bouquet of TV channels.
The 26 per cent investment into INX News was not cleared by FIPB, which asked the company to seek fresh approval - a stand endorsed by the Finance Minister.
It was allowed to raise Rs 4.62 crore from foreign investors, INX Media allegedly generated more than Rs 305 crore by issuing shares at a premium of more than Rs 800 apiece. It allegedly also made the 26 per cent investment in INX News without permission.
The Income Tax department suspected that the investments were not above board and sent a note to the FIPB.
INX Media, faced with questions by taxmen, allegedly contacted Karti Chidambaram for help. His company Chess Management advised INX Media to file a fresh request for approval.
For its help, Karti Chidambaram's company allegedly received Rs 10 lakh as kickbacks and also Rs 3.5 crore through payments in the name of companies in which he had substantial interests.
Finance Ministry officials allegedly ignored the request of taxmen to investigate how the company raised so much investment without approval.
INX Media went to the Finance Ministry's FIPB unit and got an approval, which was also signed off by the Finance Minister. This legalized what the company had already done without permission.
"Such deceitful and fallacious proposal was favourably considered by the officials of Finance Ministry and approved by the then Finance Minister," the CBI says.