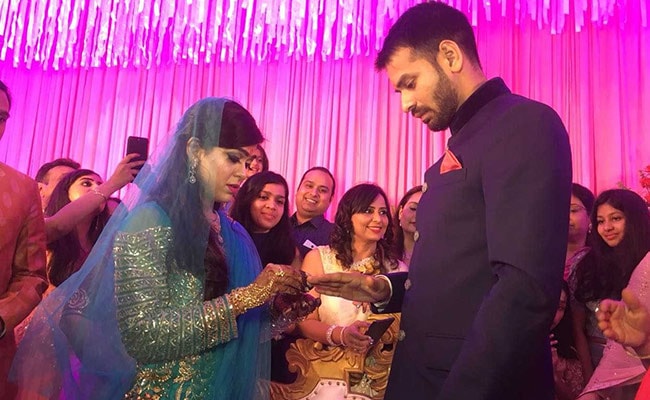 Highlights
Tej Pratap, elder son of Lalu Yadav, filed for divorce at a Patna court
He was married to Aishwarya Rai, also a politician's daughter, on May 12
He has been asked to leave for Ranchi soon to meet his jailed father
Patna:
Former Bihar Chief Minister Lalu Yadav's elder son -- Tej Pratap Yadav -- filed for divorce from his wife at a Patna court on Friday. He had married Aishwarya Roy, also the daughter of a former Bihar minister, six months ago.
Soon after the matter came to light, Ms Roy and her parents rushed to meet Tej Pratap Yadav's mother Rabri Devi at her residence. Lalu Yadav, who is also the head of the Rashtriya Janata Dal (RJD), summoned Tej Pratap Yadav to the Ranchi Jail, where he is being held. Relatives said efforts are on to make him withdraw the divorce petition.
PTI quoted sources as saying that Tej Pratap Yadav had approached the same court with a divorce petition a few days ago. However, it was turned down due to technical reasons.
While no member of their family has commented on the matter yet, Tej Pratap Yadav's advocate Yashwant Kumar Sharma confirmed that all was not well between the two. "They couldn't get along. An application under the Hindu Marriage Act was filed through me on the behalf of Tej Pratap Yadav. I can't say anything else at the moment," he said.
Tej Pratap Yadav had married Ms Roy in a high-profile ceremony attended by over 10,000 guests at the sprawling veterinary college grounds on May 12. The event was attended by many dignitaries, including Bihar Governor Satya Pal Mallik, Union Minister Ram Vilas Paswan, Samajwadi Party president Akhilesh Yadav and Chief Minister Nitish Kumar. Lalu Yadav, jailed in connection with the fodder scam, was granted three-day parole for the purpose.
Lalu Yadav's second son, Tejashwi Yadav, is still unmarried. He currently heads the party in the absence of his imprisoned father, and there have been reports of Tej Pratap Yadav expressing displeasure over his younger sibling being given a larger political role to play.
Tej Pratap Yadav had recently announced his entry into Hindi films by tweeting the poster of the movie "Rudra: The Avatar" in June. He acted in a Bhojpuri film two years ago, while he was still a minister in the Bihar cabinet. Just a few days ago, a video showing him dressed as Lord Krishna and playing the flute to a herd of cows went viral on the social media.
Ms Roy, the daughter of RJD MLA Chandrika Roy, is an MBA graduate from Amity University in Noida.
(With inputs from Agencies)