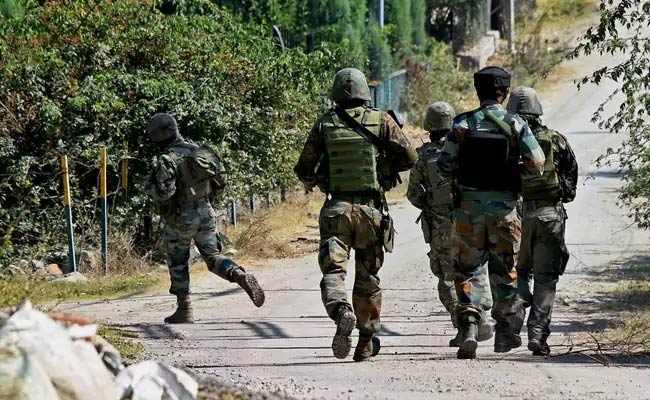 Jammu and Kashmir:
Ahead of Prime Minister Narendra Modi's visit to Jammu and Kashmir on Saturday, a Border Security Force (BSF) jawan and four civilians were killed when Pakistan Rangers violated ceasefire along the International Border (IB) in Jammu's RS Pura and Arnia sectors, the BSF said.
Intermittent firing started last night. Schools and colleges along the border have been closed and civilians are being evacuated in bullet-proof vehicles.
Saddened by the events, Chief Minister Mehbooba Mufti said firing on the border is a "cause of pain and worry". "Sad that while our country took the lead in starting peace initiatives with cessation of operations during Ramzan, Pakistan has shown no respect whatsoever for this holy month. Pakistan will have to reciprocate & contribute to efforts for lasting peace. Everyone must realise that violence is a zerosum game. My deepest condolences to families of victims," she tweeted.
Ceasefire violation by Pakistan
continued for the third consecutive day on Friday. Over the last two days, Pakistan Rangers have fired in Kathua and Samba districts.
"Firing in Heeranagar area was on during the intervening night of May 16 and 17 in which one BSF trooper was injured. Yesterday however, firing had stopped during the daytime, but Pakistan suddenly resumed firing last night in Arnia sector which claimed the life of a jawan early today," a senior official of the border guarding force had said this morning.
Sitaram Upadhyay, the 28-year-old soldier who was killed in unprovoked firing from Pakistan, was from Giridih in Jharkhand. He joined the BSF in 2011. He is survived by a three-year-old son and a one-year-old daughter.
"India has asked security forces not to launch operations during Ramzan, but my husband was killed in firing by Pakistan. What will happen by offering compensation? It'll not bring back my husband," Sitaram Upadhyay's wife told news agency ANI.
Security forces in Jammu and Kashmir have been ordered not to launch operations during the holy month of Ramzan. Security forces will, however, retain the right to retaliate if attacked or to protect civilian lives, Home Minister Rajnath Singh said.
The
Home Minister's surprise announcement
on Twitter followed Ms Mufti's request for the ceasefire. After an all-party meeting in Srinagar last week, Ms Mufti had invoked former Prime Minister Atal Bihari Vajpayee and said "all of us agree that we have to appeal to the government of India to consider a ceasefire during Ramzan, Amarnath Yatra and Eid... the way Vajpayee ji announced a unilateral ceasefire in 2000".
A senior government official, however, clarified that it won't affect counter-intelligence operations in the state.
We will not lower our guard
, said the officer.
"It's not a concession given to terrorists but to people who face hardships whenever such operations take place," a senior home ministry official told NDTV.
(With inputs from agencies)