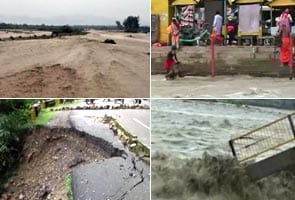 Lucknow:
Heavy rains continue to affect various parts in India. In Uttarakhand, at least 30 people have died due to the ongoing flood situation in the state. The hill state has been experiencing heavy, incessant showers with 850 mm of rain being recorded in the last 72 hours. Rail and road transport have also been badly affected in the state.
The national highway connecting Chardham has been blocked because of landslides in Kumaon and Garhwal areas. Trains from Kathgodam have been stopped because the railway tracks have been washed away. The government has ordered all schools to be closed today.
In Uttar Pradesh, hundreds of villages across the western and central part of the state, have been hit by floods. The village of Nakhara in the Gonda district was ravaged by the force of the Ghagra river. The river swallowed a kilometre-long embankment in which 55 villages of Gonda and 12 villages of the Barabanki district have been inundated. In this hour of crisis, food and drinking water are in short supply and those marooned by the floods have moved into these makeshift tents along the embankment.
The situation has been made worse by the fact that more than four lakh cusecs of water has been released from the Bandbasa barrage. This is expected to shoot up the water levels among the Ganga, Yamuna, Ramganga, Sharda, and Ghagra rivers. The devastation is only likely to increase in the days ahead.
In Bijnor, the Ganga is flowing above the danger mark. The National Highway connecting Delhi to Pauri and Nainital has been shut and more than 22 villages have also been evacuated.
In Assam the situation remains grim. The Brahmaputra and its tributaries have hit low lying areas of the districts of Lakhimpur and Dhemaji. These districts still remained submerged and relief and rescue operations for the marooned people in these areas, are on. The situation has come to such a pass that agitated villagers and members of All Assam Tribals Union, All Ahom and Tai Student Community have held demonstrations in Lakhimpur, demanding more effective action by the state government.