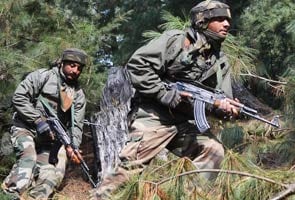 Poonch:
Violating the ceasefire twice today, Pakistani troops opened fire from automatic weapons and mortars on Hamirpur battalion and Mendhar along the Line of Control (LoC) in Poonch district of Jammu and Kashmir, drawing retaliation from the Indian Army on both the occasions.
There was no report of casualties or damage to property in the two separate incidents.
The Pakistani troops targeted the battalion in Hamirpur at around 2105 hours, sparking an exchange of fire that continued late into the night, a Defence Ministry spokesman said.
Earlier this afternoon, the Pakistani army fired at Indian forward posts with small arms along the LoC in Mendhar sub-sector in Poonch district.
"Pakistani troops fired from small arms and automatic weapons on Indian posts in Mendhar sub-sector at around 2:35 pm," a defence spokesman said.
Pakistani troops had earlier fired heavily on Indian posts in Hamirpur and Balakote border belts along the LoC in Poonch and also pounded civilian areas in Mankote and Mendhar belts.
"There was firing by the Pakistani Army in Hamirpur and Balakote belts last night," the defence spokesman said.
The Indian soldiers replied strongly, triggering exchanges which continued throughout last night, he said.
The Pakistani troops also targeted civilian areas with medium mortar shells and rockets sparking panic among the inhabitants.
72 ceasefire violations by Pakistan have taken place along the LoC since January one this year.