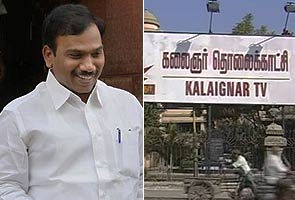 Chennai:
The Central Bureau of Investigation (CBI) today raided the office of Kalaignar TV, a Chennai-based channel closely linked to the DMK, as part of its investigations into the 2G scam.
The raids were carried out at midnight and then at 5 am and are in connection with the money trail in the 2G scam. The CBI suspects that some amount of payoffs in the scam may have been diverted to the channel.
The investigating agency had alleged last week that a Rs. 200-crore cheque was sent from Mumbai to Chennai in 2009 which ended up with Kalaignar TV, which is owned largely by the family of M Karunanidhi, the Chief Minister of Tamil Nadu. His second wife, MK Dayaluammal, owns 60 per cent stake in the channel and his daughter Kanimozhi owns another 20 per cent.
Kanimozhi spoke to NDTV after the raids and maintained that Kalaignar TV had nothing to hide. She also said that she had not received any summons from the CBI in the case. She also said the Kalaignar TV MD had explained everything and she had nothing to add.
(Watch: Kanimozhi after CBI raids on Kalaignar TV)

The money, the CBI alleged, was paid to former Telecom Minister A Raja by Shahid Balwa, a promoter of DB Realty and Swan Telecom, which was allegedly one of the two major beneficiaries of Raja's spectrum largesse when he was minister. Swan Telecom was granted its license for a little over Rs 1500 crores and it later sold stake to Etisalat, a Dubai-based firm, for nearly Rs 4,200 crores.
CBI sources allege that the DB Group first transferred the money to Morani Brothers' owned event management company Cineyug Films, which then forwarded it to Kalaignar.
The CBI had told a court recently, "It has also come to light that there was a transaction of Rs 214 crore from M/s Cineyug Films private limited to Kalaignar TV in 2009.
"The funds were arranged by M/s Cineyug Films from DB Group companies wherein the family members of Balwa are the directors or shareholders", CBI had said in its application filed before the court.
Kalaignar TV clarified that Cineyug invested the money for buying Kalaingar's shares, which later fell through due to differences in valuation, following which Kalaingar TV treated that money as a loan and repaid it with a 31 crore interest.