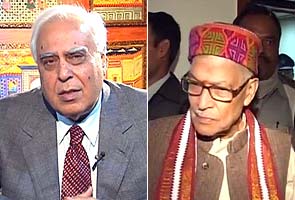 New Delhi:
The scrap over Telecom Minister Kapil Sibal's comments on the CAG report keeps getting more intense. Today he was rapped by both the Supreme Court, and by the Public Accounts Committee (PAC), after which Mr Sibal clarified that he had meant no disrespect to the CAG.
"I never meant to disrespect any institution and I have the greatest respect for CAG," Mr Sibal said.
Kapil Sibal also said that he is fully aware of his responsibilities as the Telecom Minister, and he was pained by the allegations made against him.
BJP leader Murli Manohar Joshi, who is the Chairman of the PAC, wrote to the Lok Sabha speaker Meira Kumar, stating that it was improper for Kapil Sibal to have criticized the 2G report prepared by the government's auditor.
Mr Sibal, after being appointed Telecom Minister, had described the report of the Comptroller and Auditor General (CAG) as "erroneous". The report said the 2G scam could add upto 1.76 lakh crores, prompted the exit of A Raja as Telecom Minister in November, and saw Mr Sibal take over.
The CAG report forms the basis of the inquiry into the 2G scam being conducted by the Public Accounts Committee.
Mr Joshi said the Telecom Ministry was given ample time to respond on the findings of the CAG and said it should not have publicly questioned the report after it was tabled in Parliament.
Joshi said since the Speaker is the competent authority to guide the Public Accounts Committee, she should ensure that no such "impropriety" on party of the ministry recurs.
He also said that if a confrontation develops between the Telecom Ministry and the Public Accounts Committee or the CAG, then the days of "healthy democracy" are numbered.
The Supreme Court today also pulled up Sibal for his public remarks undermining the CAG report and said, "It is unfortunate. The minister should behave with some sense of responsibility." (
Read: Sibal's CAG report criticism unfortunate
)
The court also said, "In our opinion, the CBI which is conducting investigation into the 2G scam is expected to carry out the probe without being influenced by the statement made by anybody, anywhere, including the press."
(With PTI inputs)