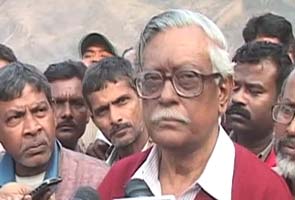 Kolkata:
While the Budget session of Parliament is all set to start in February, the big worry for the Government is that the Opposition protests could well paralyse Parliament all over again during the forthcoming session.
However, in what could be a major reprieve at least for now, the Communist Party of India (CPI) has decided to withdraw its demand for a JPC saying Parliament must meet and discuss more pressing issues like price rise.
Speaking at an event in Kolkata, senior leader of CPI, Gurudas Dasgupta, said "We are withdrawing our demand for JPC (Joint Parliamentary Committee), for only one demand to hold up the Parliament is wrong. Today the most important issue is economic policy and price rise... the Parliament must meet, must discuss, Parliament hold up should not continue."
The Government has been drawing flak from several quarters for being unable to check the spiralling prices of essential commodities.
In December last year, state-run fuel retailers hiked petrol prices by about Rs three due to rising global crude oil prices, putting increased pressure on wallets of the common man.
While the Trinamool Congress blamed the West Bengal state government for the price hike, the CPM on the other hand, has passed the buck on the Government at the Centre.
Meanwhile, Trinamool Congress chief Mamata Banerjee met Congress President Sonia Gandhi at the latter's residence. Though the reason for the meeting was not clear - Mamata declined to speak to reporters after the meeting - it was believed that Mamata expressed her unhappiness over the recent fuel price hike, a speculation that strengthened after the new Petroleum Minister S Jaipal Reddy met Sonia soon after Mamata left.
But Reddy described the visit as a courtesy call.
"These decisions are taken at the level of the cabinet. I did not get an opportunity to raise this issue with the Congress president", said Reddy.
Mamata's meeting with Sonia came after the firebrand Trinamool leader shot off a letter to the Prime Minister this week asking for a review of the petroleum pricing policy.