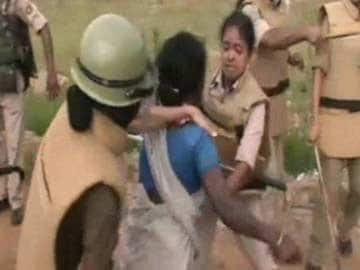 New Delhi:
A two-km stretch of Assam-Nagaland border in Golaghat turned into a battlefield today, with Assamese protesters blockading the highway and targeting the police. When batons and tear gas failed to work, the police opened fire. At the end of it, one person was dead -- run over by a truck during the lathicharge -- and 21 people had to be hospitalised.
But the police clarified that none of them had sustained bullet injuries.
Later in the evening, the Centre rushed additional paramilitary troops in the area to keep the peace.
The protest was part of the ongoing agitation against Nagaland over the killing of at least 15 people in seven border villages last week. The participants were from the All Adivasi Students Association of Assam and other groups.
The protesters had assembled in the morning to impose a blockade on the highway. But matters soon got out of hand. Truckers who refused to stop had their vehicles brickbatted and tyres burnt. When the police stepped in, the protesters turned on them.
"We are investigating the incident, but as far as I know, not a single policeman fired at a protestor," said Additional Director General of Police AP Raut. A constable, who had assaulted a biker, has already been suspended, he said.
Assam Chief Minister Tarun Gogoi and his Nagaland counterpart TR Zeliang will meet on August 21 to discuss the border problem.
On Tuesday, inmates of Golaghat's Uriam Ghat camp, who had fled their villages to escape the Naga violence, had targeted Mr Gogoi, who had gone there for a visit. He had to be rescued by his security personnel.
"It is natural for people to be angry. I have been complaining for long that the Central forces are not doing their job. I need the Centre to become proactive," Mr Gogoi said.
The Assam-Nagaland border dispute has been on for 50 years, ever since Nagaland achieved statehood. Each side accuses the other of encroachment. Despite mediation by the Supreme Court, the dispute is yet to be resolved.