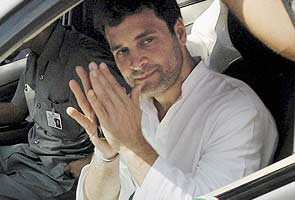 Rajkot:
Congress vice president Rahul Gandhi today reportedly told party workers from Saurashtra region that 2014 elections were not a "do or die" situation.
"We should overcome our weaknesses and highlight our strengths among the people," Jamnagar Congress MP Vikram Madam quoted Mr Gandhi as saying.
Mr Gandhi, who is on two-day visit to Gujarat, is meeting Congress workers from Saurashtra and North Gujarat in Rajkot today.
Media persons were not allowed at the meeting.
According to Mr Madam, Mr Gandhi told workers that they "should not worry about 2014 elections - it is not a do or die situation and after the 2014 general election there would be no doubt about the party's existence, as Congress is a permanent political party".
Speaking in Ahmedabad yesterday, Mr Gandhi had said that Congress was going to win the 2014 elections.
The Congress vice president asked the state unit to work hard to strengthen the party in Gujarat and said, "We should not keep 2014 elections in mind, but serve the people. Highlight UPA government's initiatives like RTI (Right to Information) and RTF (Right to Food).
"We should not be power-oriented and the party is able to serve the people even without being in power," Mr Madam quoted Rahul Gandhi as saying.
Meanwhile, state Congress chief Arjun Modhvadiya said that Rahul Gandhi's Gujarat visit boosted the morale of Congress leaders and workers.
Mr Modhvadiya said that Mr Gandhi told the partymen Congress was capable of winning elections in Gujarat, but it needed to be strong in the state.